Step into the heart of your home, where culinary creativity takes shape and family bonds are nourished – your kitchen. In a simple phrase, kitchen design trends for 2024 are timeless and warm with pops of colour. As interior designers in Calgary, we've got our fingers on the pulse of the interior design industry, and we're here to share our favourite kitchen design trends that will redefine your culinary haven and bring you the most ROI in your renovation.
Before we begin, we must offer a caveat as we do in all trend blogs. Design trends come, go, and return. If you're curious about kitchen trends over the years, you might love this article from Forbes. Always consider the functionality and feel of your design selections. Don't be tied down to a trend because someone said it was popular, even if that someone is us.
Timeless design is always trending! Have fun with things that are easy to change with a trend (backsplashes, lighting fixtures, etc.), but select neutral, high-quality bases for items in your kitchen that are more difficult to change (cabinetry material, countertops). While we can do our best to select timeless materials, kitchens are not as ageless as Jared Leto or Paul Rudd. Everything will eventually have a time stamp on it, and that's okay.
With that introduction, let's get into kitchen design trends 2024!
1. Greens, Blues, Natural Wood & White Prevail
While classic whites and neutrals remain timeless, 2024 brings a splash of colour. Earthy tones like terracotta, warm greens, and muted blues are gaining popularity, infusing kitchens with serenity and comfort. These hues create a connection with nature, aligning perfectly with the hygge interior design philosophy we hold dear.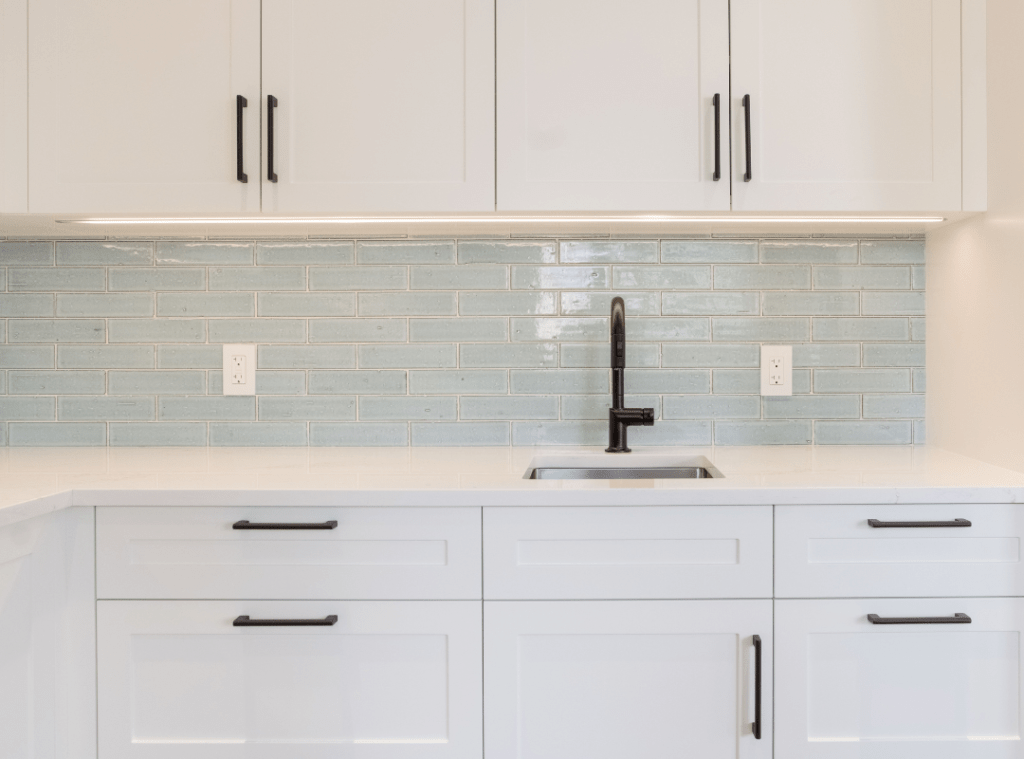 2. Warm Light Wood Cabinetry
The reign of the white and grey kitchen has ended, as far as trends go anyway. Though white kitchens are no longer trending, if you're concerned about your kitchen looking dated once a trend ends, white is a safe, solid cabinet selection. Through decades of changing trends, white kitchens have remained constant.
Warm wood cabinetry has risen in the ranks. This trend is welcomed as it creates a warm, welcoming, airy Scandinavian feeling. We're always on board for designs that offer warmth, functionality, and calm.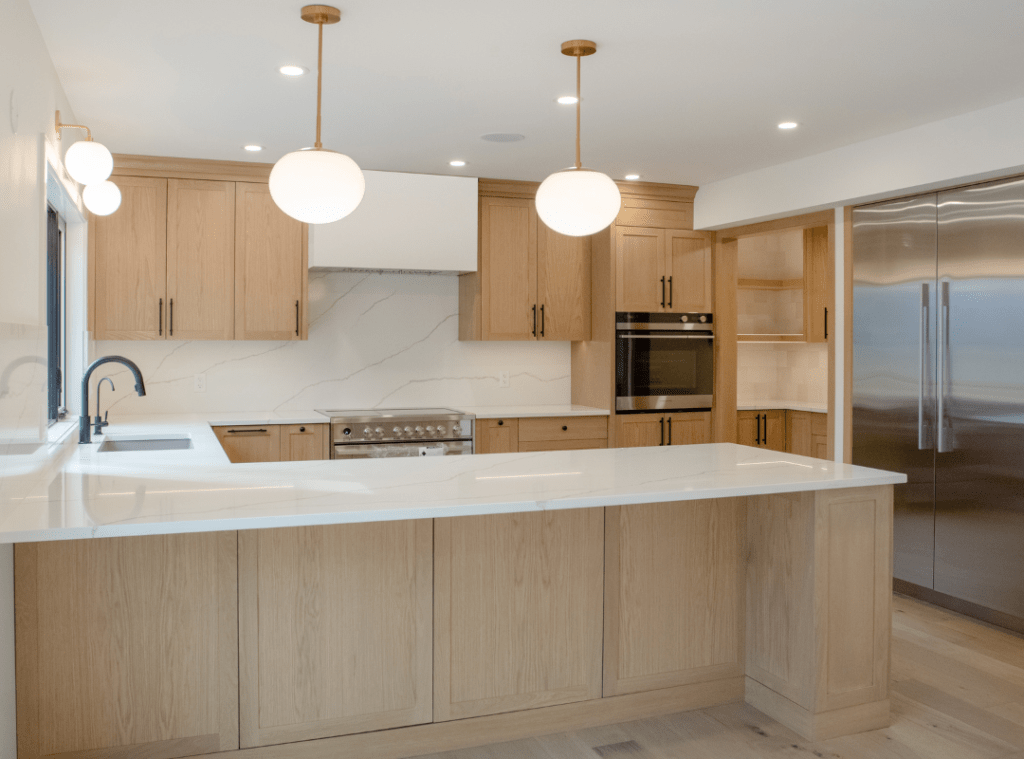 3. Flat Slab Cabinetry
It's not just cabinet colours that change; it's also the style and cut of the cabinetry itself. Along with the light, warm woods, there's a spike in simple, flat slab cabinetry. This trend is very Scandinavian. Sneak peek of next month's 2024 interior design trends blog: Scandinavian Interior Design is also trending for 2024! It's no secret that we're a bit obsessed with Scandinavian interior design, and we're happy to report that the world is moving in this deceptively simple and clean direction.
Flat slab kitchen cabinets are sleek and free of crevices that require a toothbrush to clean. This isn't to say that we won't continue to see shaker cabinetry as we have been. Shaker cabinets are also in for 2024.
Urban Home Craft has a blog that explains some pros and cons of multiple cabinet styles in this blog. We've also saved a few pins to our Kitchen Cabinet Pinterest Board so you can see the differences. While not exhaustive, these resources will help you build the language surrounding kitchen cabinets and suss out what you like inside and outside of trends.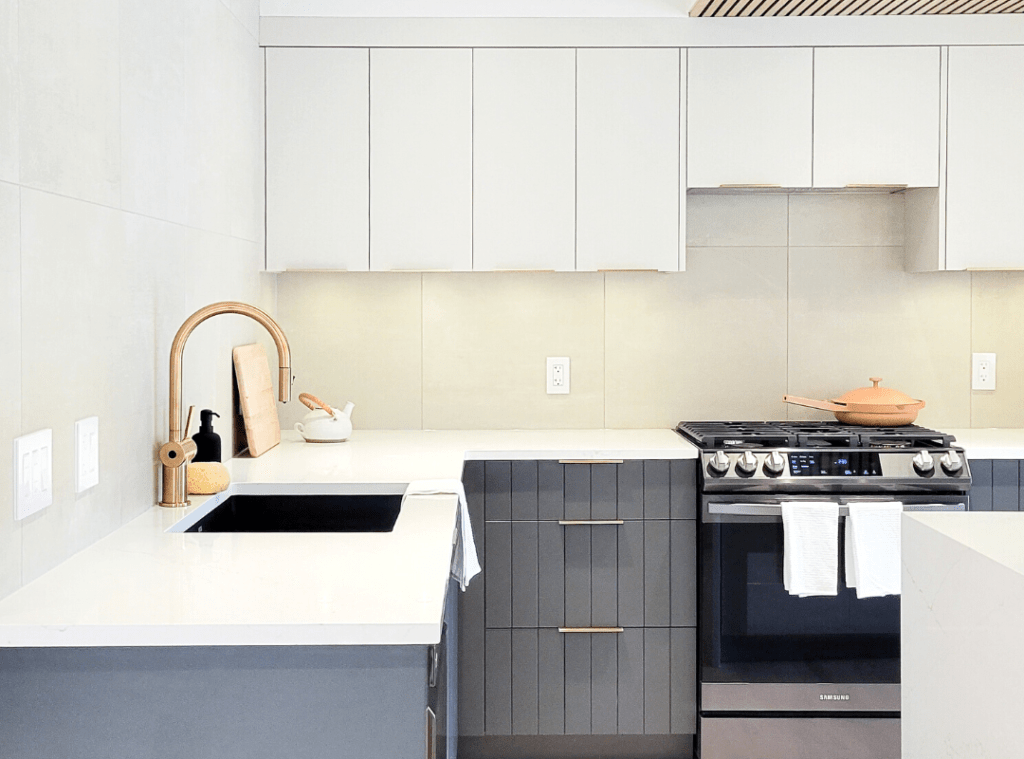 4. Thin, Low-Maintenance, Natural Stone Look Countertops
At Krista Hermanson Design, we tend to look to Europe for inspiration, and we've been seeing thin countertops from our favourite European suppliers for months. It's been confirmed by the NKBA 2024 kitchen trend report that homeowners, designers, and builders are beginning to lean toward thin countertops. Along with a trend toward thin, we continue to see a push for low-maintenance, easy-to-clean kitchen materials that look elegant and high-end. To that end, we're seeing a drop in granite, but marble remains strong.
Stain, heat, and scratch-resistant, sintered stone countertop products have made their way into many designs due to their durability and strength, even when thinly sliced. We're excited about the design possibilities of using thin slabs in more placements outside the kitchen.
Natural stone requires a thicker cut slab. If you've had your heart set on a true natural stone, don't let this trend stop you. Neutral-coloured natural stone and high-quality natural stone looks will always be in, whether cut thick or thin.
See our newly updated countertop blog for more countertop considerations.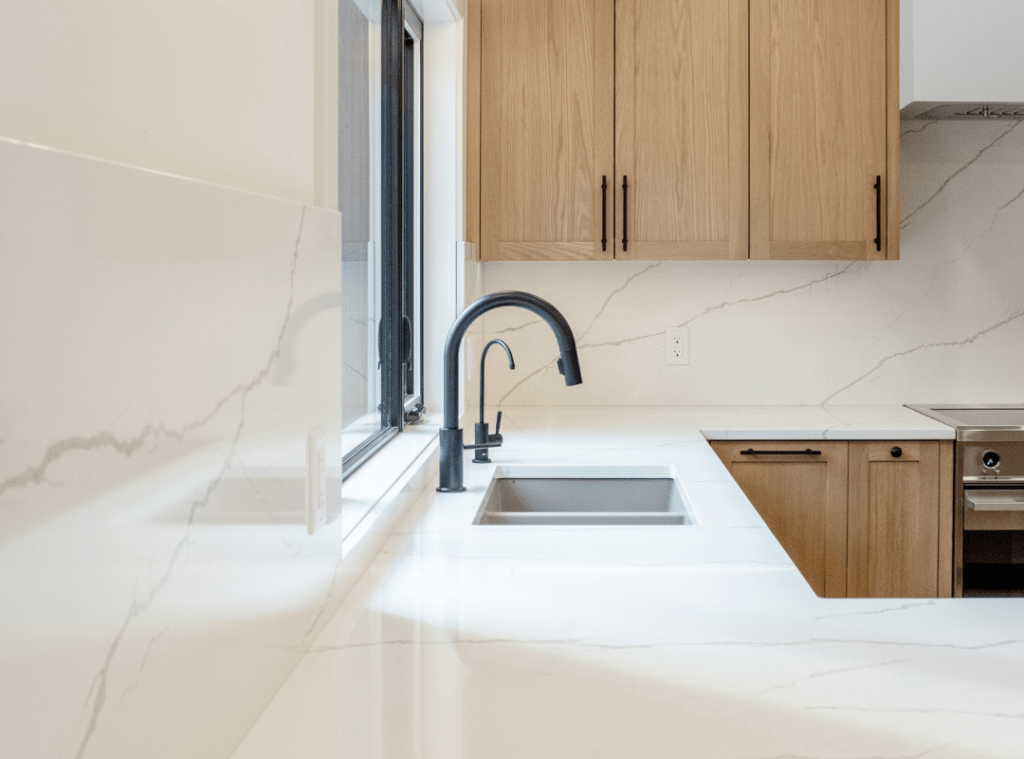 5. Full Slab & Artisan Tile Backsplashes
With no grout lines to stain, full slab backsplashes (see above) are a breeze to wipe clean. It's no wonder that this will be trending next year. Alternatively, if you'd like to add a splash of colour and contrast, you can do that too! The kitchen below features both full slab backsplashes and neutral, pearl, textured square tiles that coordinate beautifully with the countertops.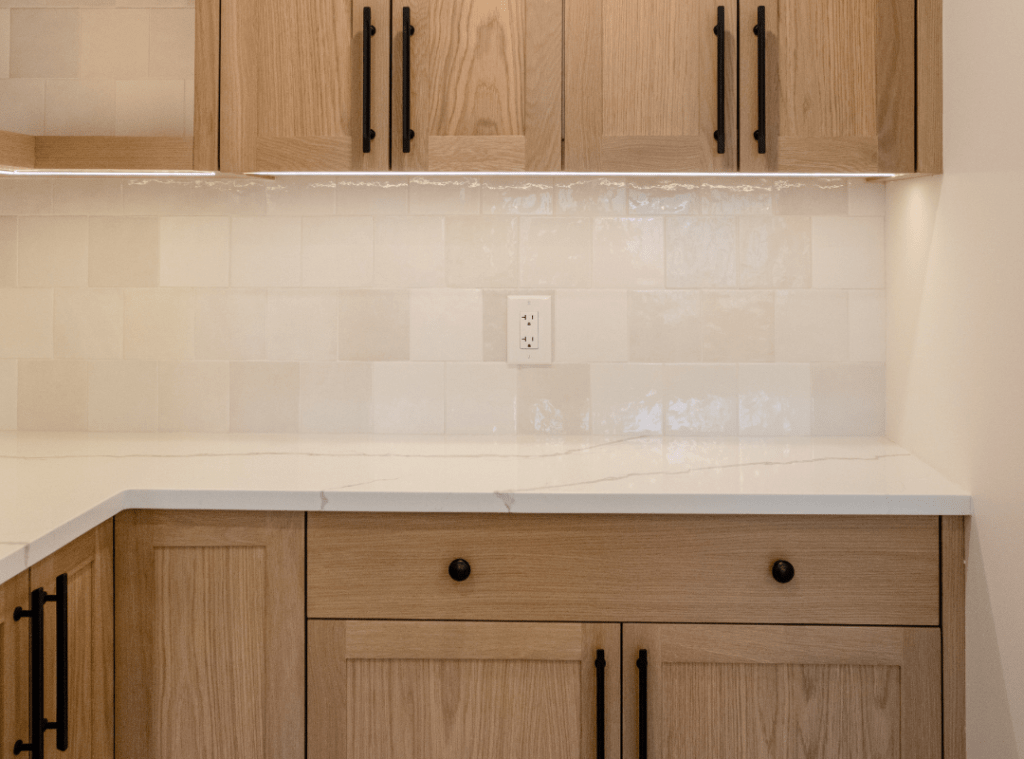 6. Panelled and Stainless-Steel Appliances
This trend will split many, but we're including it as you must include appliances in a kitchen unless you're Cher Horowitz, and your kitchen is there for looks alone.
Panelled appliances provide seamless wall-to-wall cabinetry, whereas stainless steel appliances are eye-stoppers and statement pieces.
To decide which of these trends is for you, ask yourself this question: Do I feel like appliances are an aesthetic detail that adds to the ambience, or do I feel like they break up the flow of the kitchen? There is no correct answer here; it's merely a preference. You can always mix and match, as seen in the project pictured below.
7. Rounded and Linear Statement Lighting
We're seeing rounded and linear statement lighting for over-island lighting and dining tables going into 2024. Layered lighting is always a must for our designs at KHD, and it's making its way into kitchen design trends in 2024.
Layer your lighting with pot lights, statement lighting, pendants, chandeliers, and sconces. To set the mood during entertaining, dimmer switches should always be installed. Take a gander at our lighting scheme blog for more tips about working these trends into your lighting scheme.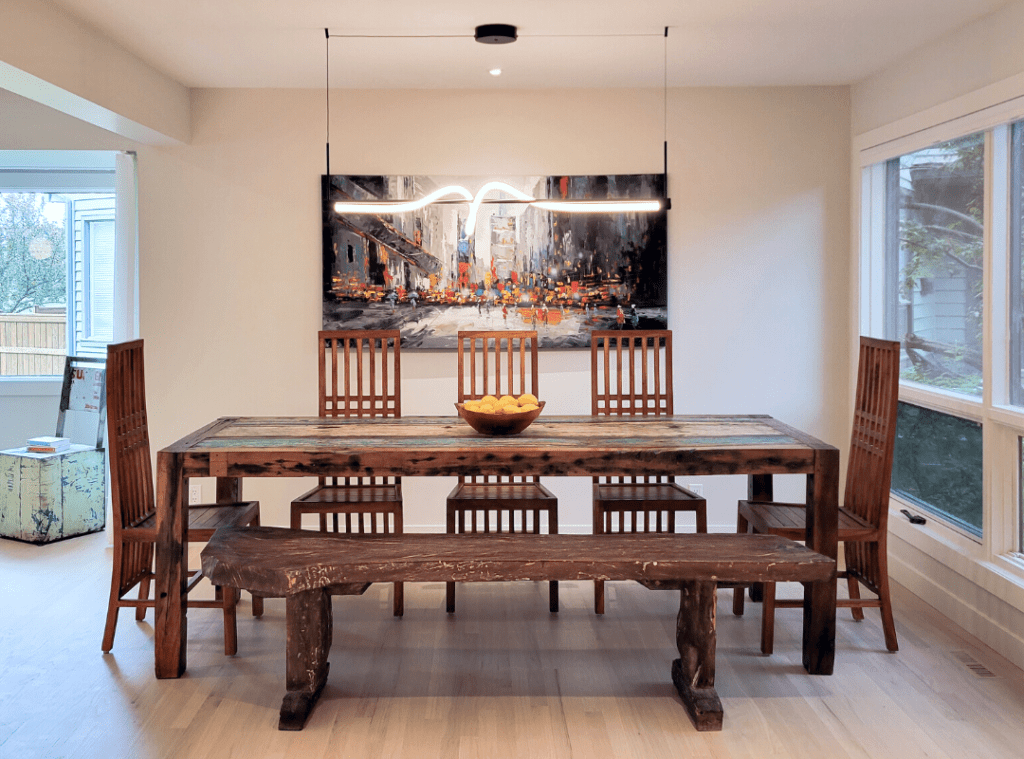 8. Warm Fixtures and Faucets
Take your pick with fixtures and faucet colours and finishes in 2024. Gold, stainless, and black in matte, brushed, and satin finishes are trending. Warmer metals have been in the spotlight for a few years, and they will continue into 2024.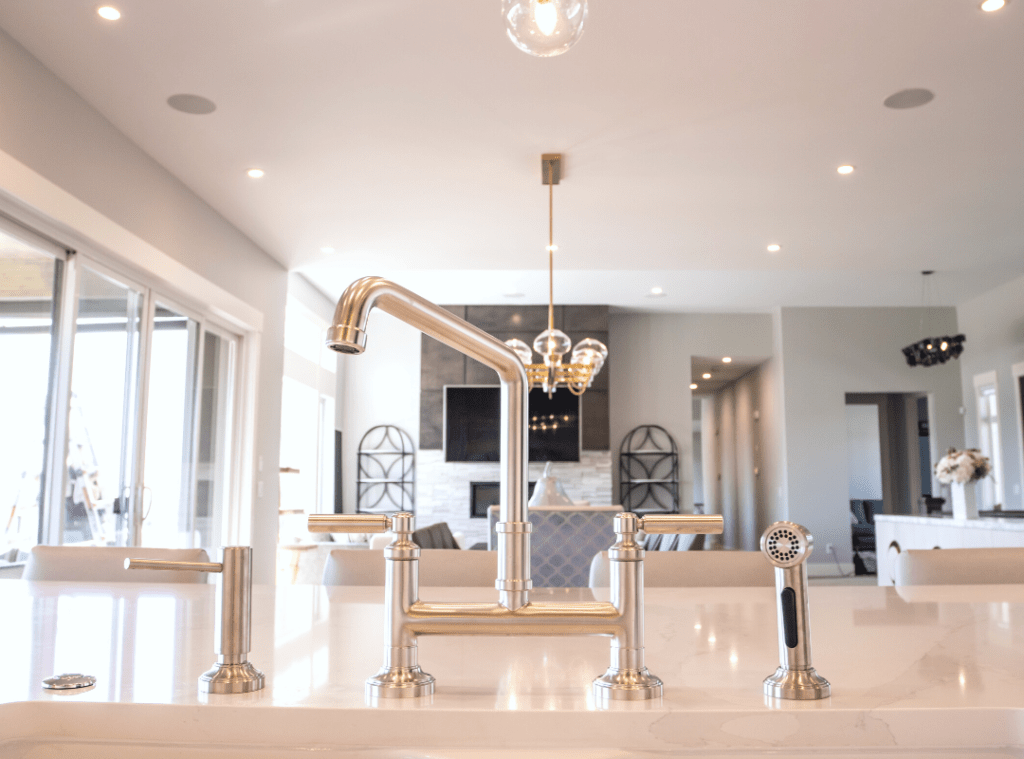 9. Ergonomic Designs for Effortless Cooking
Last but certainly not least. Functionality meets style in 2024 with ergonomic kitchen designs. Ergonomic considerations are for more than just your chair at the office. We spend so much of our day in the kitchen. It should be ergonomic and easy to keep looking pristine.
We give a kitchen layout 101 crash course in this blog to help set up your kitchen ergonomically how you want it to work. Countertop heights, cabinet pulls, and storage solutions are meticulously planned for maximum convenience.
Butler's pantries and second/ spice kitchens are also trending. Wouldn't it be divine if the kitchen mess was primarily contained somewhere out of sight while entertaining? Picture your island covered in delectable delicacies and beverages while the pots and pans are hidden behind pantry doors.
Final Thoughts
We haven't gone through all the kitchen design trends for 2024, but we hope we've given you food for thought to incorporate the trends to create a kitchen that will make you feel good for years to come. Your kitchen is not just a place to cook; it's a canvas where memories are created.
Our mission is to build trust and inspire you. Stay tuned for more insights and inspirations from Krista Hermanson Design, your partner in crafting the perfect spaces for your Calgary, Alberta home. When you're ready, we're happy to chat about your kitchen renovation.
Related Blogs: