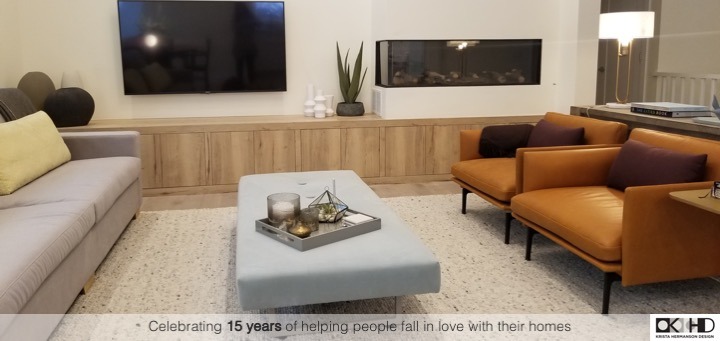 Happy New Year! As the calendar ticks over into 2019, we are thrilled to kick off our 15 Year Anniversary celebrations of Calgary Interior Design. Over the years we have had the privilege of working closely with hundreds of Calgary and area families to co-create spaces that they love living in.
It's my commitment to keep our blog posts relevant and useful, but please indulge me today.  To our dear, dear clients over the last decade and a half:  To the boomer couple that wanted to make Universal design changes to allow them to remain in their home for three more decades, to the growing families who outgrew their spaces and desperately needed more functional and beautiful kitchens (there are so many of you), to the recent newlyweds who were starting their shared life and wanted a nest to build their family in; to all of you we send a huge and heartfelt thank you. 
Thank you!
Thank you for entrusting us with your most private and precious spaces (some of you three and four times over the years), for the camaraderie and excitement of many design and budget meetings over pots of Icelandic coffee and the hugs and happy tears as we handed your house-keys back post-construction.
Our community has grown organically over the years, with clients who have become friends in the process generously sharing our contact information with their families or neighbours. (I feel like there are more than a few city blocks that should have a secondary sign of KHD Avenue, lol). We've woven hygge threads into most neighbourhoods in Calgary and we are deeply proud of and grateful for the homes we have transformed.
Making homes flow, function and feel better is our mission. Making families happier as a result, is why we do what we do. Thank you, thank you, thank you, for sharing this journey and your homes with us.
Krista Hermanson Design is a Calgary Interior Designer that specializes in residential renovations. We have worked with many families in Calgary who have felt disconnected to a certain area of their home, and we listen just as hard when our clients talk about budgets and timelines as we do when they talk about their vision for the space. It's this process that has enabled us to complete hundreds of renovations on budget and on schedule.
Want to get in touch with us in 2019? Lets Talk.
Similar Posts from the Krista Hermanson Design blog: