Considering a spring kitchen renovation this year or next? 
We LOVE renovating. At Krista Hermanson Design, the before and after transformations never cease to thrill us!  So, stay tuned, as upcoming posts will discuss mission-critical considerations from the standpoint of design, building a realistic budget, pre-planning and logistics, and finally, what to expect in a well-run construction project.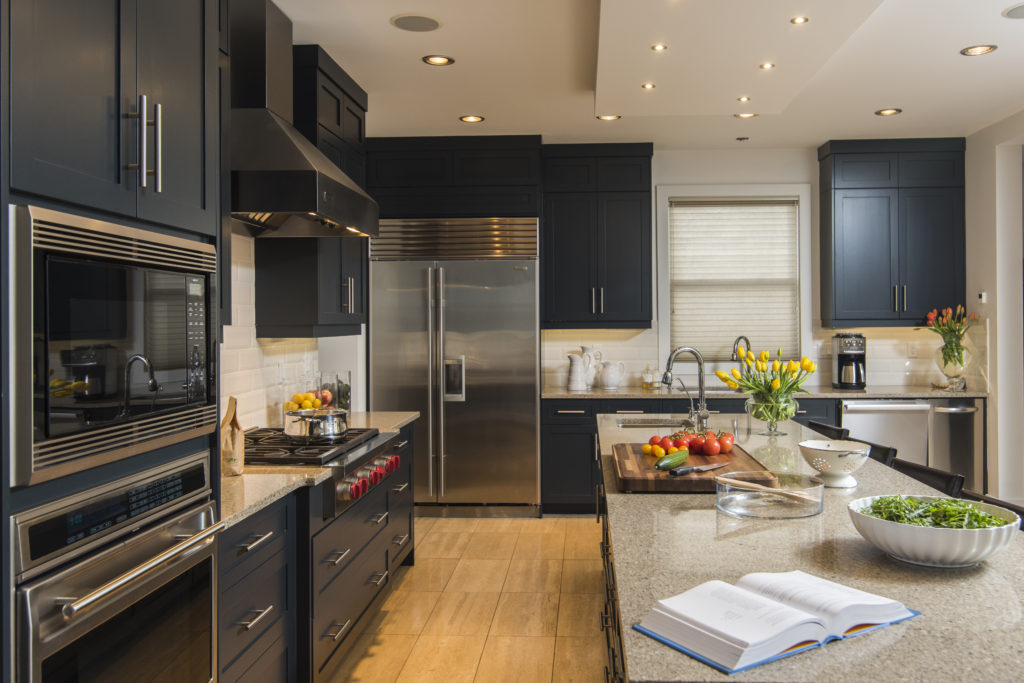 Planning For Your Kitchen Renovation
A well-conceived design plan is the often-overlooked first step to ensure a happy result.   Careful planning is synonymous with avoiding costly mistakes.  We've all known someone who has lived through an expensive and painfully slow renovation riddled with cost overruns and hair-raising encounters with questionable and underwhelming trades.   These are not urban legends – but with appropriate due diligence and planning, it doesn't have to be you!  Your kitchen renovation story can have a happy ending with these simple guidelines:
Create Your Dream File
Collect images and ideas from homes you love.  What makes you feel happy?  Rich, warm colour or crisp white cabinets? If you've always loved blue kitchens, pull a bunch of images.  Over time, a pattern will begin to emerge in your dream file.  You may not see it, but an experienced designer will!  Allow yourself enough lead time to allow your initial ideas to ripen and become clearer.  You don't need to have everything figured out, but a general direction of the flavour is very helpful as a starting point for discussions with your designer.  For some, it's often easier to define what you don't want and start the conversation from there.
Concurrent with this, make a list of the sorts of things that you want in your new kitchen.  Do you want more storage and pantry space?  Drawers for pots and pans to allow for easier access?  A special baking area for storing ingredients and a marble surface for rolling out pastry?  Think about functional priorities to share with your kitchen designer. You'd be amazed at what can be accomplished in even the smallest kitchens.
Gather Your Team
Kitchens aren't just for looks – they are functional machines.  Every inch of your kitchen design should be carefully planned.  It looks easy on television, but anyone who has tried to do their own design work on a major renovation or a custom build will tell you it can become completely overwhelming.  Hire a qualified professional to create your new kitchen plan and for a fraction of your budget, you will ensure your renovation investment will be well spent. An expert will protect you from making expensive amateur mistakes and virtually guarantee an excellent return on investment should you choose to sell your home later.  I know I am somewhat biased, but that's borne of experience: it's almost heartbreaking to walk into kitchens that were not professionally planned – so much money has been wasted and so unnecessarily!
Design Discovery
If you are redesigning your kitchen, expect to spend a good chunk of time in discovery about functionality, because a kitchen, first and foremost, is a complex machine. At KHD, we interview carefully and use our home surveys to refine and laser-focus our design goals before we begin the interior design process.   We ask about everything:  what type of cook are you, how many cooks are in the kitchen, what levels of formality or informality you want when you entertain, et cetera.   It's a fun exploration of how your family lives in your home and leads to some uber-cool solutions.
Keep a lookout for an upcoming post where we will dive deeply into our kitchen survey to help you clarify and organize your priorities.
Do the Math
An experienced interior designer or renovator should always ask you about your budget. Additionally, they need to know your longer-term plans for your home to guide sound decisions and return on investment. Consider the following:
How long do you plan to stay in your home?  If it's decades, then a larger budget makes sense as you are spreading that investment over many years.  If it's a year or two, then a quick freshening makes more sense.  Also, consider where are you at in terms of investment versus market value in this property.  How much upside can you create if you need to sell?
We do know that well-executed kitchen and bathroom renovations deliver excellent ROI.  According to CIBC, kitchen and bathroom renovations deliver 75 to 100% of their value at the time of resale.   (More on renovation budgets in an upcoming post, including how we create a construction budget that works.)
To help put renovation costs into perspective, check out the chart which indicates an appropriate investment as a percentage of the overall value of your home.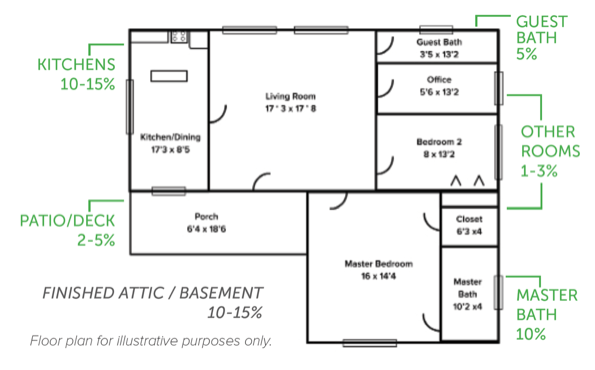 Image credit: Houzz.com
Incorporate Your Dream Kitchen Appliances
Choose your appliances early while you are working out all the details with your home/kitchen designer, but don't purchase them until your kitchen design is completely finalized.   Appliances are a significant portion of the cost of a new kitchen and should not be purchased until you are 100% certain they will work in your space.
Developing Your Floor Plan
An experienced and competent kitchen designer will develop floor plans, wall elevations, create ample storage for all your cookware and any specialty items, pinpoint electrical locations, flooring selections, cabinetry style, tile, lighting selections, and seating at your island or elsewhere.   As part of this exercise, you should discuss your desired appliance list and determine together how they can be worked in.
These are just a few factors to consider, there are so many! But if you're planning to begin in the spring, planning properly means that it should start now to give you a solid start on your design and renovation journey.
KHD's Kitchen Renovation Projects
Need some inspiration to get started? Check out some of our recent projects!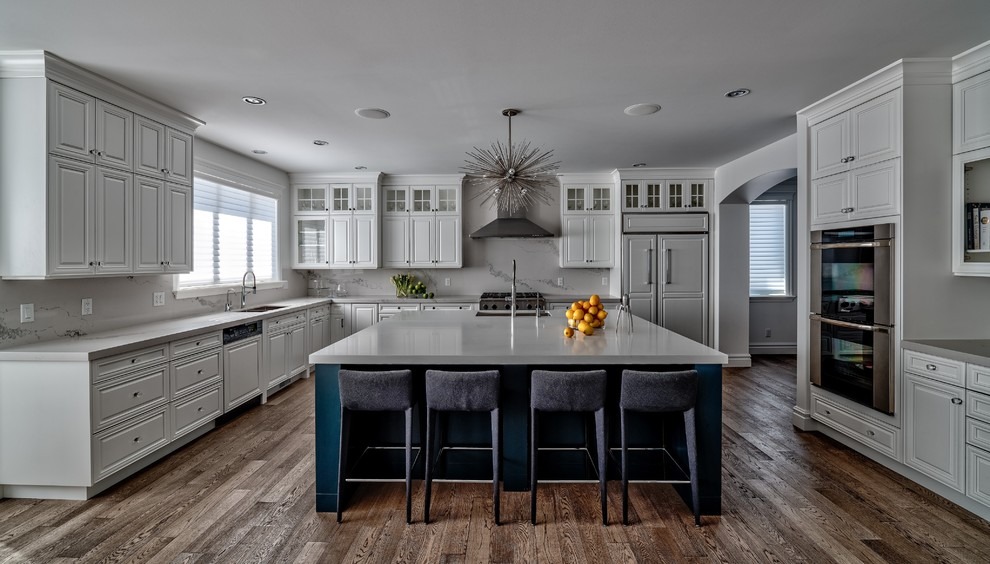 Executive Home Main Floor Renovation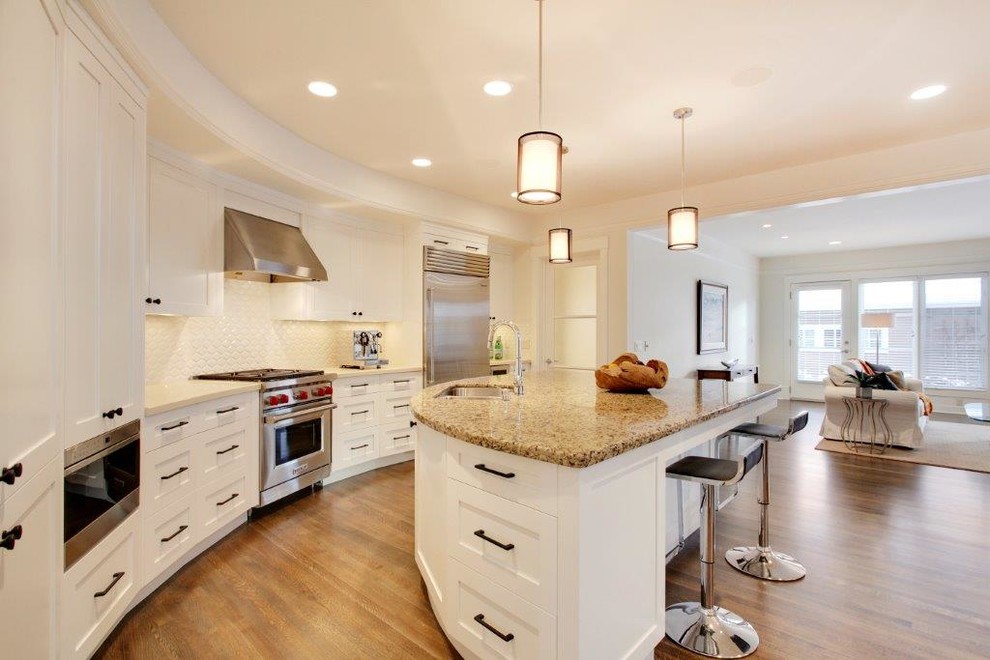 Traditional Family Home – Ravaged by flooding; restored to perfection.
Krista Hermanson Design is a Calgary Interior Designer that specializes in residential renovations. We have worked with many families in Calgary who have felt disconnected from a certain area of their home, and we listen just as hard when our clients talk about budgets and timelines as we do when they talk about their vision for the space. It's this process that has enabled us to complete hundreds of renovations on budget and on schedule.
Want to get in touch with us in 2019? Lets Talk.
Similar Posts from the Krista Hermanson Design blog: