As you'll remember from last week, we shared Case Study Part 1 of this entertainer's dream home! Like part 1, we have options for you for part 2! You can read the rest of the transformation of part 2 below, or you can allow Krista to walk you through it in the video. Don't we all love to have options?
Functional Mudroom
Mudrooms aren't very glamorous, but they are a crucial part of family life, and they make a huge difference when they are done well. This mud room had far too much going on inside of it for its small space and we had to find a solution for the family. Like many builder-standard mud rooms, it was the laundry room and the catch-all between the garage and the home. We pushed back the wall stealing some square footage from the powder room, moved the laundry upstairs to a superb laundry closet, and created 5 cubbies for each of the family member's things. We also added a full wall of shoe storage. Now this mud room can keep the family's things organized coming and going from the house.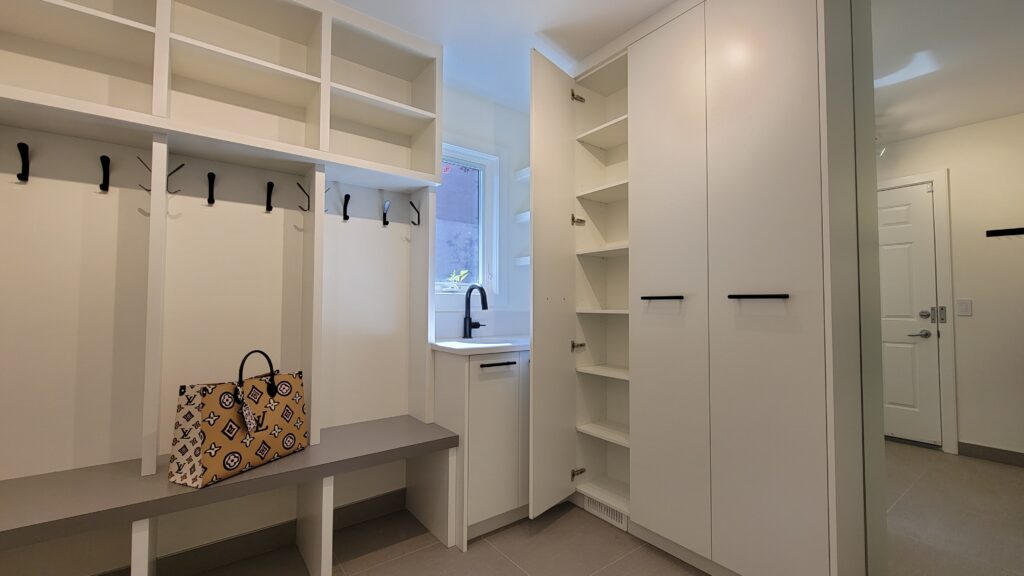 Upper-Level Updates
Laundry Walk-In Closet
Most of the laundry in a home is created on the upper floor. It doesn't make much sense to have it on the main floor or worse, the basement. To create the laundry walk-in closet on the upper level, we stole a bit of space from a linen closet, but not to worry, always cognizant of storage, we replaced that storage with cabinetry above the laundry units. Now the family can take care of their laundry on the floor where it happens and hide it away in a neat, organized space accessible with double doors.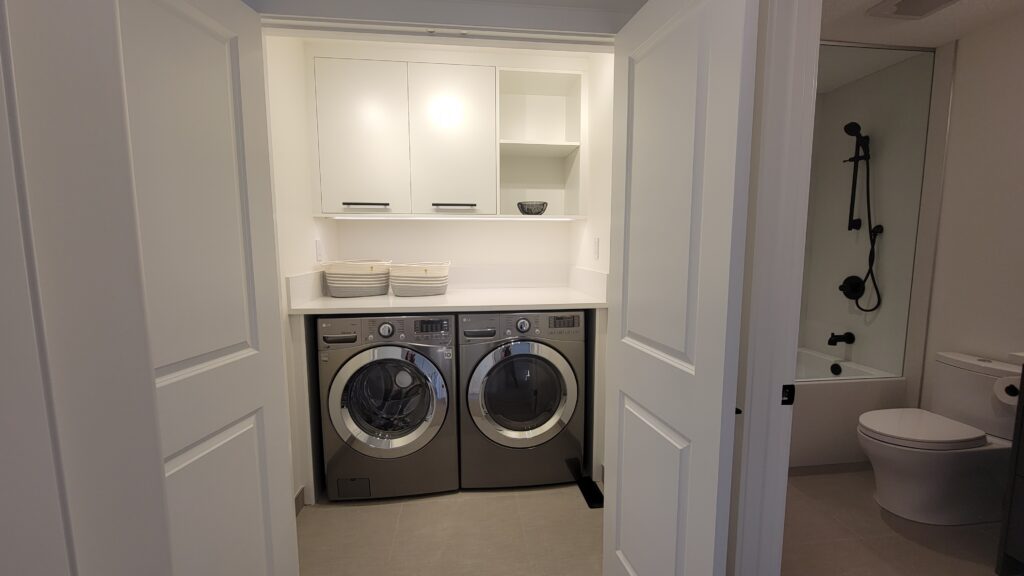 Master Ensuite & Walk-in Closet Fit for the Finer Things in Life
On this level, we also updated the master bedroom walk-in closet. We added loads more hanging space and shelving so the couple can see and access their clothing with ease. It is brightened with new lighting fixtures and full-length mirrors.
The master ensuite began with a corner tub that took up most of the space in the bathroom. We replaced the large corner tub with a deep-soak standalone tub for her, and a luxurious steam shower for him. We added stylish cabinetry and double sinks, but the most interesting thing about this bathroom is what we did with the hidden cabinets. The homeowner enjoys the finer things in life, and she has an array of products that need to be stowed. The wall between the master and the ensuite had an odd curve to it which made it challenging to put furniture in front of it to add extra storage in this room. Our designer created a custom cabinet that curves with the wall and looks like beautiful wood panelling when it's closed – but with a touch-latch mechanism to open and close it, it's completely hidden from view.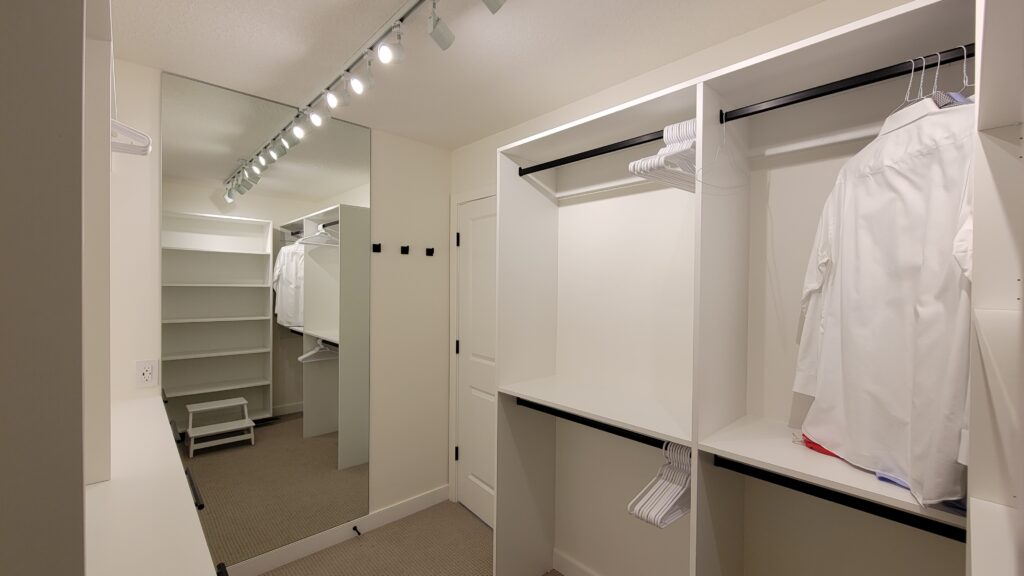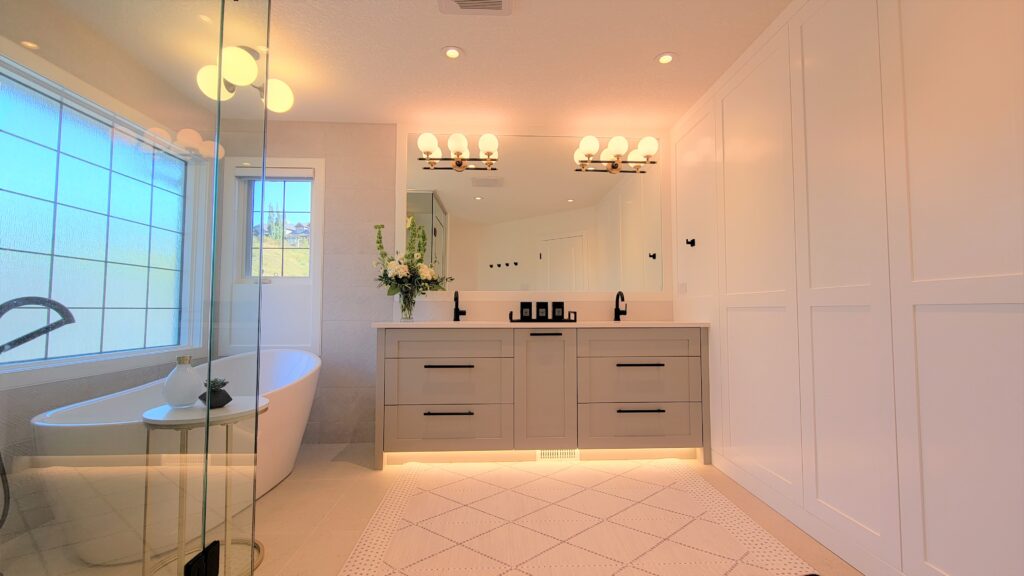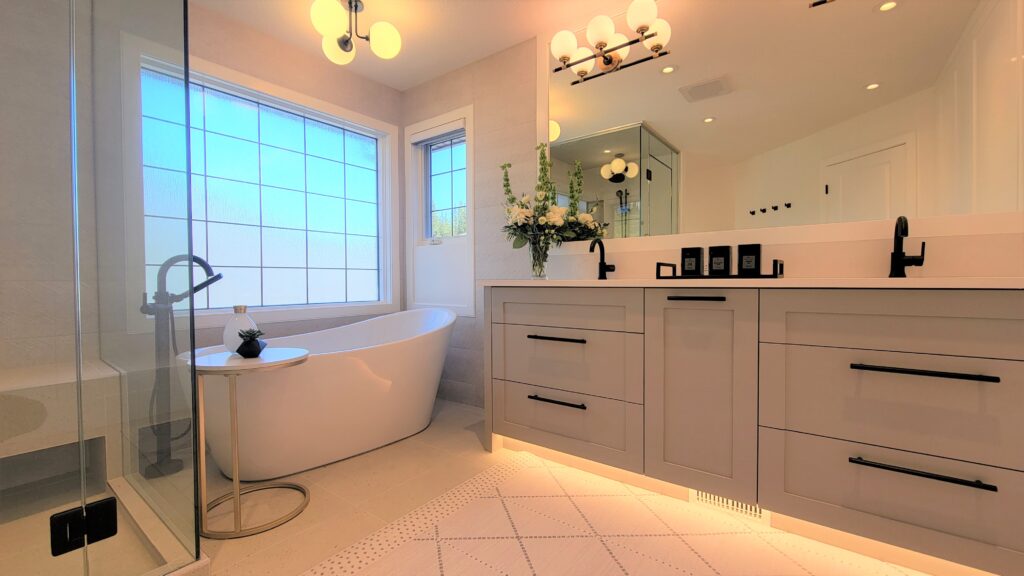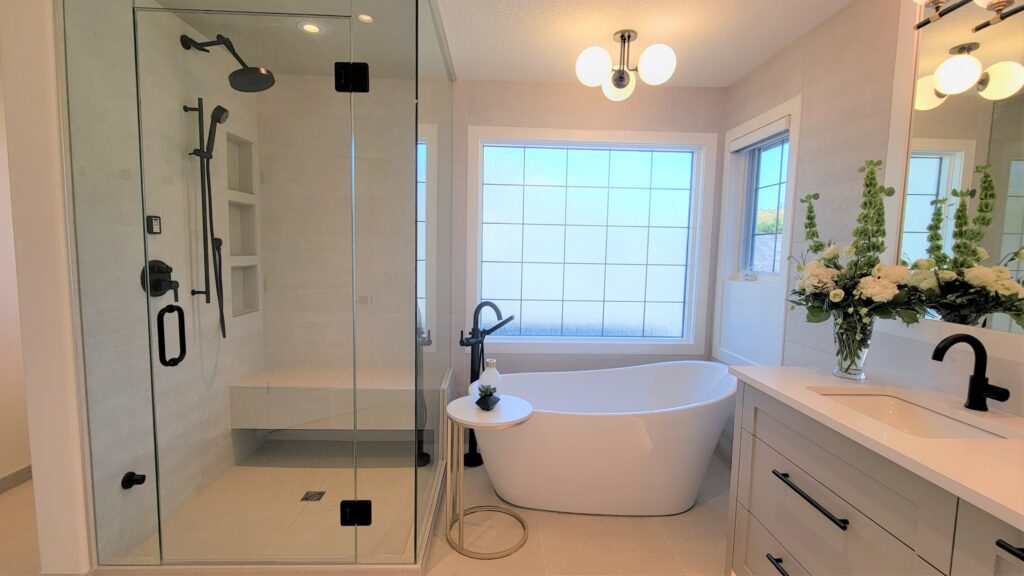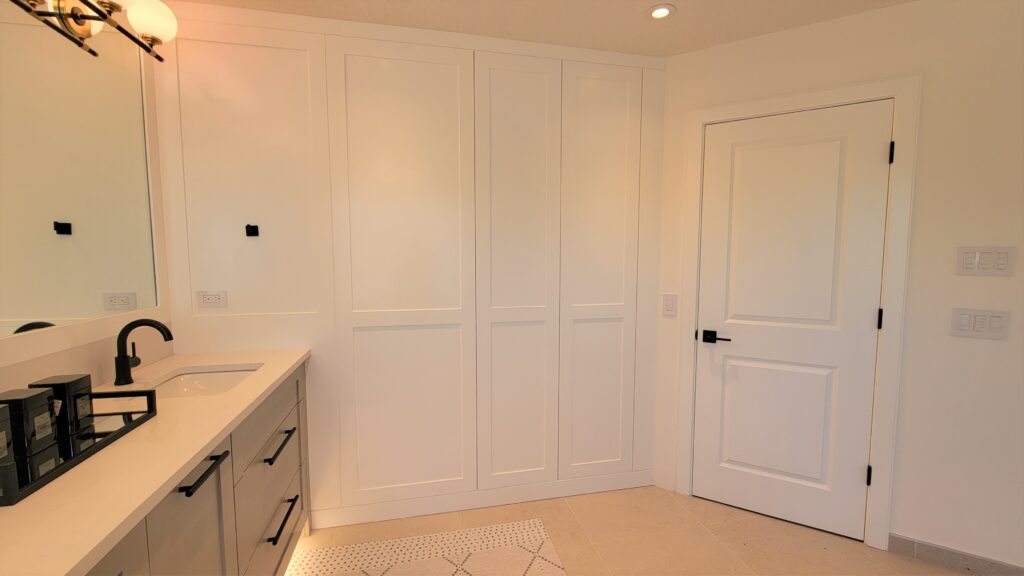 Lower-Level Games Room
The final piece of this home renovation puzzle is on the lower level. We replaced the corner bar with a wall of cabinetry and a gorgeous marble-look backdrop. Now there is storage for snacks and beverages and games to play on their new table. In the entertainment area, we added sofa tables behind the sectional couch with stools so everyone can be together enjoying a snack and watching a game with surround sound. Thankfully the tech-savvy homeowner knows how to use their entertainment centre because we couldn't figure it out without the tech!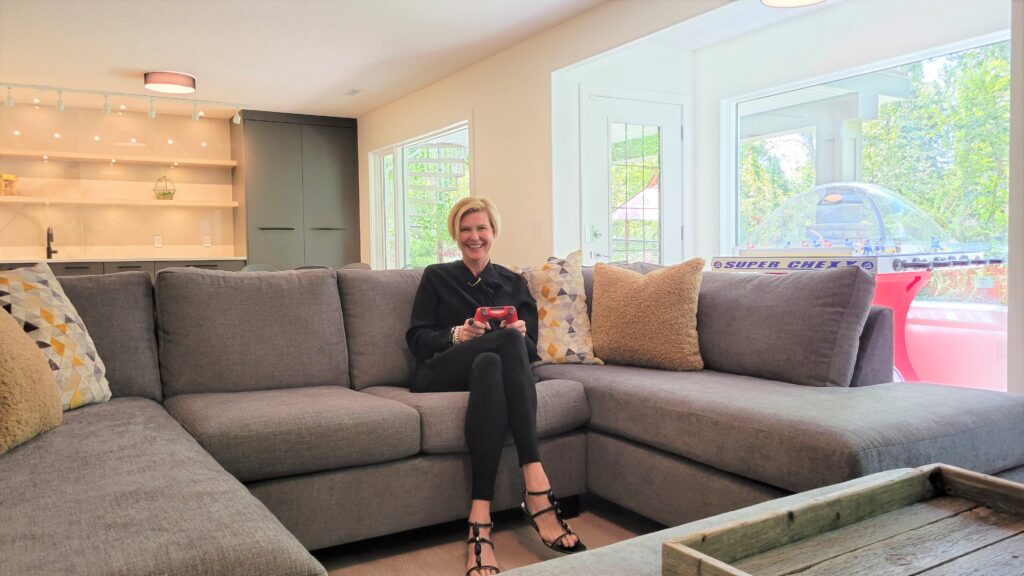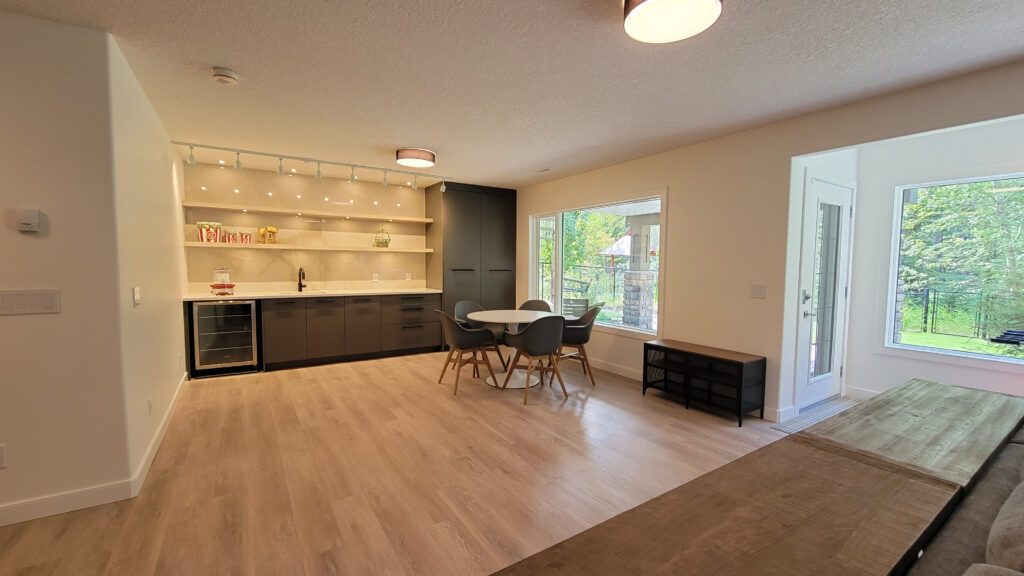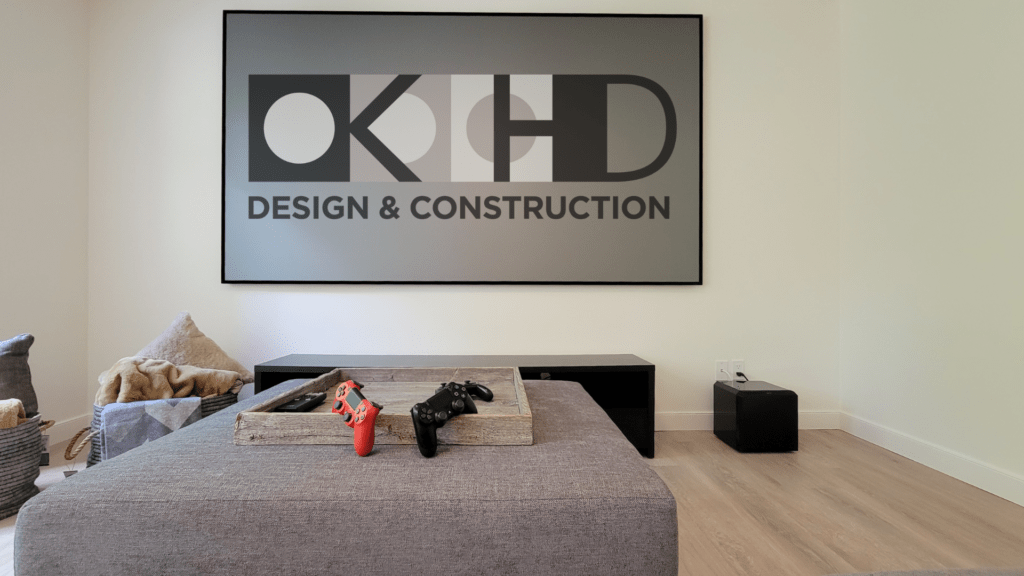 They Fell in Love with Their Home
We had the best time working with this family and can't wait to work with them again in their next renovation. It was an emotional reveal where we each poured our hearts out about the process and how we've all grown close this past year. The complete set of before and after photos can be found here on our project page. Explore our services and when you're ready to fall in love with your home, let's talk.