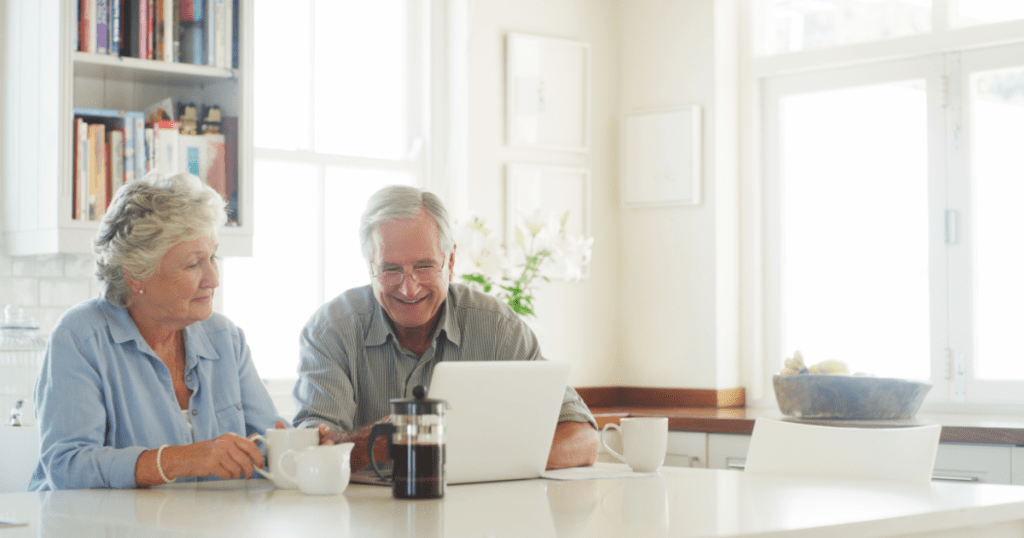 We all have the same hope for our golden years. We'll live a long, healthy life surrounded by people we love in a place we call home. No one dreams about living in a senior care facility. It makes no difference how thoughtfully designed they might be. We'd still rather be home. With a little planning and consideration, aging in place is possible and no more expensive than moving to a care facility.
Aside from your significant other and your children, your home is the longest relationship you'll have. It's an extension of you. Imagine your life in pictures. Where are you? You built this life here. It's yours. It should stay yours. It's why we say, "Fall in love with your home."
When to Consider Aging in Place
Aging in place isn't something to begin considering as you near retirement. The time is now in your 40s or 50s.
Your home is bound to need a renovation. Why not ask your designer about options to accommodate aging in place? You don't have to sacrifice beauty. Quite the contrary. Simple changes to your design can be functional, accessible, and yes, BEAUTIFUL.
Few homes are built utilizing the seven universal design principles. These are the principles that allow people of all generations and abilities to use your home safely and with dignity.
Why Design to Age in Place
Krista Hermanson Design & Construction designs with longevity in mind. Aging in place is a consideration we bring to each design conversation. Our team attended an NKBA (National Kitchen & Bath Association) event called Aging in Place hosted by Bow Valley College a few weeks ago. A representative from Blum shared their "Age Explorer" suit that they developed with the Meyer-Hentschel Institute over four years.
The Age Explorer suit simulates the changes that the body goes through as we age. Of course one of us had to try it! Our brand manager, Britt, who is 37, had this to say about her experience, "I didn't realize how much our vision deteriorates. I expected blurred vision, but the inability to determine colour and contrast was eye-opening. I could see why high-contrast design is important. Simple tasks like separating paperclips by colour, retrieving coins from a wallet and opening a bottle became incredibly challenging."
How Our Bodies Change
Our eyesight diminishes as we age. Did you know this isn't limited to blurred vision that can be accommodated by bifocals? Our ability to distinguish variance in colour, contrast and depth will be lessened. This is why stair risers with no contrast in colour can cause falls.
Due to bone density reduction, falls result in broken bones, not bruises.
Muscle mass decreases, which means walking and retrieving items from higher shelves becomes difficult.
Merck has more information on how our bodies age here.
How to Design to Age in Place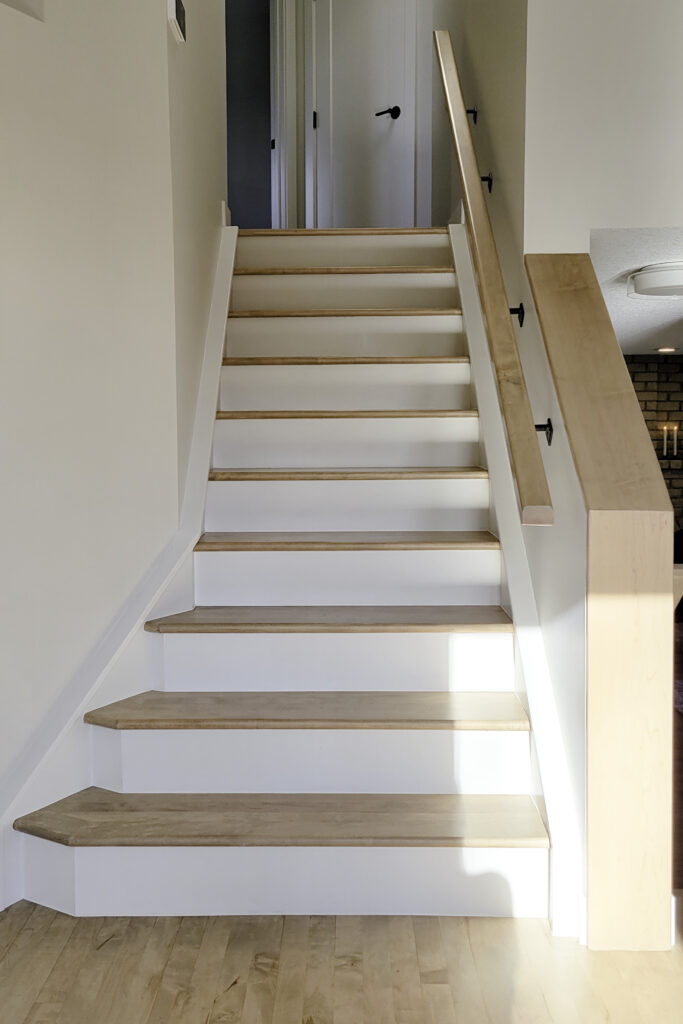 Replace lower-level cabinetry shelves with drawers.
Widen hallways and entryways to allow for walkers and wheelchairs, or carrying laundry baskets, groceries, or grandbabies.
Create stairs with high-contrast risers and add additional floor lighting.
Add a built-in step that tucks away in your cabinet toe kick when not in use. These are great for when you bake with your grandchildren, or when you need to reach a higher shelf. Moms, how many times have you had to get water for your children because they can't reach the faucet? Have you also purchased one of those kitchen-helper stools only to have it be a tripping hazard the rest of the time?
If the thought of not being able to enjoy a bubble bath brings tears to your eyes, consider a walk-in tub.
A curb-less shower is for you if you're looking for a sexy bathroom no matter your age. These are gorgeous at 30 and 99.
Install central air conditioning and update your heating system to accommodate temperature regulation challenges.
While open shelving is not always our design go-to, some open shelving is good for memory loss. Out of sight, out of mind. Leave some shelves open to place a select few important items.
Select larger pulls for drawers and cabinets and levers on doors instead of knobs.
Install no-touch or push/ pull lever faucets rather than twist.
Preparations for limited mobility:

Consider the entry to your home.

Are there stairs?

Consider modifying the stairs with additional contrast and a non-stick grip while your mobility is good.

You may wish to install a ramp or elevator in preparation for the requirement of a walker or wheelchair.

Are your doorways and hallways wide enough to allow for ease of passage?

Do you have a lot of carpeted spaces?

Ensure area rugs are sturdy enough to push a walker or remove area rugs completely.

Do you have a room on your main floor that can transform into a bedroom?

Is there a main-floor full bath with a curb-less shower

?

Can a wheelchair do a complete turn in your bathroom?

Are sinks accessible via wheelchair?

Is there a prep counter where a wheelchair would be able to sneak under?
What Does it Cost to Age in Place?
Care facilities in Canada range between $5,000 and $12,000 per month depending on the level of care. For qualifying adults, home care is a fraction of the cost. You could spend $120,000 on a beautiful, accessible kitchen and bathroom that you can enjoy for many years, or you could spend $120,000 on care for one year.
It's not possible for everyone to age in place. Sometimes life has other plans. The best we can do is prepare. Aging in place supports your vitality and social life and lengthens your independence.
Final Thoughts
Life is beautiful. Each stage offers gifts and challenges. We believe in the power of space. Along with a healthy lifestyle and connection with loved ones, thoughtful universal design will help you continue to enjoy your life's best moments. There's so much to love! When you're ready to start the conversation about aging in place, we're here to listen. The coffee is always on.