We speak a lot about hygge and how our spaces profoundly affect how we feel. Embarking on the path of creating a beautiful home should be filled with happy explorations. As leaves transition to a palette of warm autumnal hues, the season brings a quiet opportunity for reflection—specifically on gratitude.
Certainly, one's surroundings play a pivotal role in fostering these feelings. By curating an environment abundant with human comforts—think the soft glow of candles and the tactile sensation of cozy furnishings—you transform not just your home but the quality of your interactions within its walls. This is where the role of interior design, particularly in creating a hygge-inspired space, shines its soft, ambient light.
Creating a Beautiful Home
We spend a great deal of time considering the feeling a person wants to have when they enter or inhabit a room. The outside is the aesthetic appeal. But if you walk in and the feeling isn't right, it doesn't matter how beautiful it is. You'll never feel comfortable in the space.
Your home should be a sanctuary, a retreat where your soul finds respite. By thoughtfully considering each use and helping you envision yourself experiencing joy and gratitude at the centre, we co-create a space that looks and feels great. This somewhat soulful process leads to great design decisions and creates a space that feels like you. Like your favourite soft sweater that you look great in – it just feels right. Is this the most scientific part of design? No. Do we believe it's true? You bet! We live it every day.
Consider the hopes you had for your first home. If you were like most of us, your first home was probably a bit more shabby than chic. But I bet you loved that place. And I'm sure you look back on sitting on milk crates eating stale pizza with fondness. Laughing as you called your friend to help clean up the flood you created by defrosting your vintage freezer. It was your space. It was yours alone, and you had every hope in the world that both it and your new life would be great.
Now, match that feeling of hope and gratitude with a budget for interior design and décor; you have pure gold. When renovating, embracing the little things, slowing down, and connecting with your deeper self is a must. It's not just four walls, electrical, HVAC and plumbing. It's so much more because YOU are so much more.
The Fireplace: A Hearth of Warm Memories
It's in our social DNA to gather around fire to connect, and we think every home needs a fireplace. As always, candles are a beloved addition or alternative.
The fireplace is the gathering place, taking centre stage during our long, cold evenings. The flickering flames create a mesmerizing dance, pulling everyone into a trance of warmth and inviting hours of confabulation.
There's something primal about a burning ember that unites us. Perhaps it's a remnant of our past that lingers on as if by memory of that first spark. Whatever the reason might be, it pulls us away from the disconnection of our screens, allowing us to focus on one another. By the light of a fire, we can connect in a way that seems instinctive, deep, and real.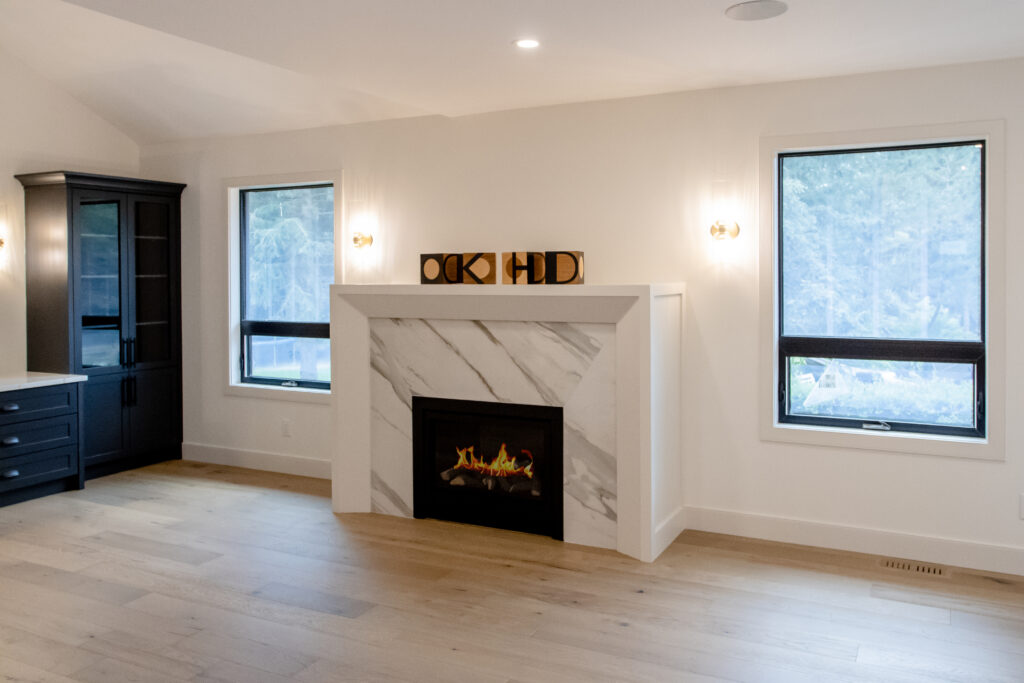 Grateful for Your Trust
When you invite an interior design firm such as Krista Hermanson Design to help, we don't take that invitation lightly. We lean in carefully and attentively, treating your home with as much care as we treat our own. Our hearts are eternally grateful for your trust. As we think about our clients, we are overwhelmed by your monumental place in our hearts. We cannot say how much we appreciate you enough. You have opened your lives, been vulnerable, and allowed us to support you in creating homes that embrace your best selves. Grateful does not begin to cover how we feel about you, but it will have to do.
Our hope is that you feel this gratitude and imbue it in your home so you can create a beautiful home with a thankful heart.
Did you like this blog? Look at how to create a luxurious, cozy home with hygge.