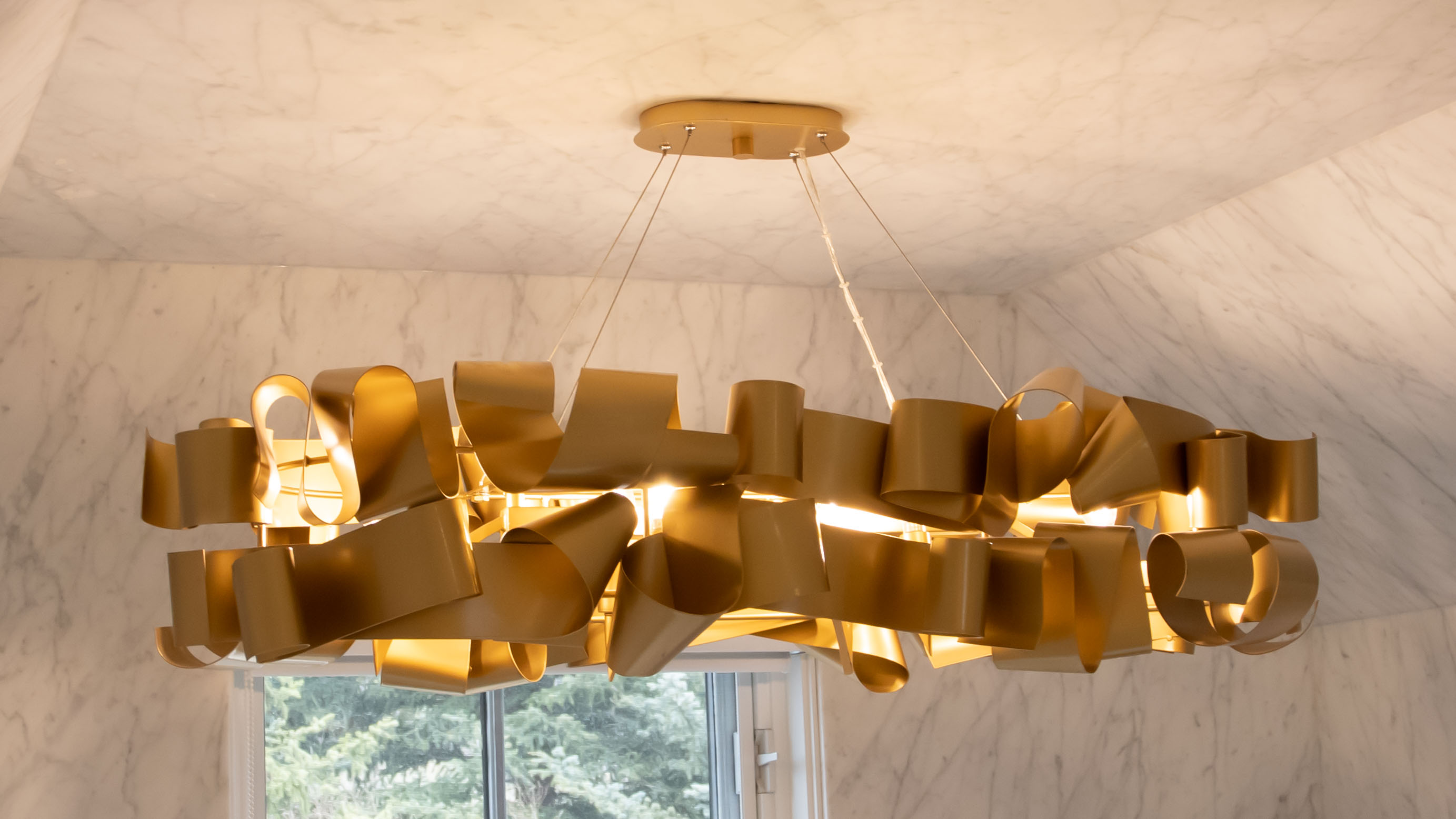 Interior design tells a story, and each room is a chapter in the same book — lighting is part of that story. As in design, there should be a string that ties fixtures together. There is a danger of telling a confusing story with missing plot lines that don't quite flow or conversely, a total snooze fest. No one wants either! That's why we thought we'd jot down a few notes on how to make stunning, cohesive lighting selections, whether selecting them all simultaneously or replacing a few to keep things interesting.
Step 1.  Know What Lighting You Need
It seems a bit obvious that you need a shopping list for groceries, but you're not going to forget something as visible as a light, right? Wrong. You'd be surprised at how easy it is to miss a fixture. That's why we suggest that you walk through your home and create a lighting plan. A lighting plan is a floor plan that shows where each light is located and, if done by a designer, it also includes junction boxes, breakers, and switch locations. This plan helps you understand your light sources and where you may have dark spots to fill. It also reminds you which lights are in the same sightline — the importance of which we'll go over later.
A lighting plan could look something like this.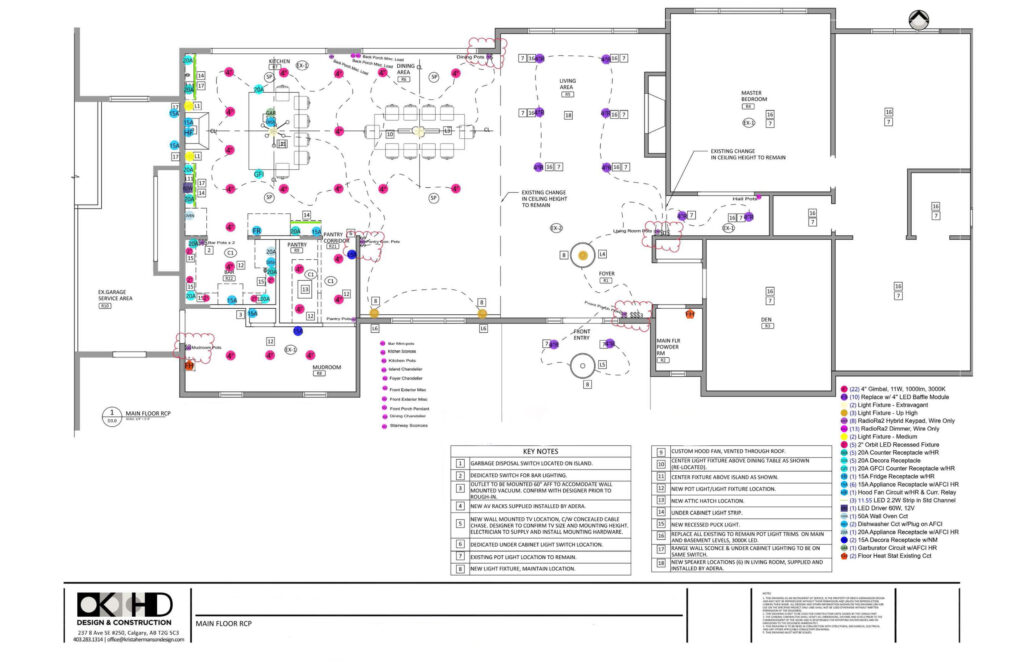 It's not necessary to be as detailed as a designer, but it helps! At the very least, create a list of lighting in your home for each room. It may be handy to keep it in the notes on your phone.
Your list may look a little something like this:
Entryway
1 ceiling-mounted light
2 wall sconces mounted at 66" above the finished floor
Switch on south wall
Living room
2 wall sconces flanking the fireplace mounted at 72" above the finished floor
Floor lamp
2 table lamps
1 switch on north wall
1 switch on west wall
Dining room
Chandelier
2 wall sconces mounted at 78" above the finished floor
1 switch on east wall
Kitchen — you get the idea.
Take this process a step further and ask yourself the following questions:
Is this enough lighting?
As you use each space take a moment to consider your lighting needs. Is there anywhere that could use some additional lighting? Could this be solved by a fixture with additional bulbs, or do you need a light source from another direction as well?
Do you have enough dimmer switches?
As far as we're concerned, dimmer switches are always a good idea to install at the outset of a project. Dining rooms, bedrooms, and bathrooms all benefit from dimmable lighting or as we like to call it, "mood" lighting.
Do you need additional light switches?
Are there times when you wish you had a light switch on the opposite side to where it's currently located? If you're already making other lighting and electrical changes, this is a great time to consider adding a switch or two to make your life easier. Or perhaps the extra steps help you reach your goals on your pedometer. It's up to you.
Step 2. Select Your Lighting Finish & Style
When in doubt, stick to a single finish across all lighting fixtures. Mixed metals are trending but mixing finishes should be done judiciously and with prejudice. If you're feeling adventurous, keep your fixtures to two finishes — max three. You don't want your home to look like a garage sale. Like furnishings, lighting should be curated with care and consideration for sightlines.
Resist the temptation to purchase an entire collection from one manufacturer's collection to avoid being matchy-matchy. A carefully curated grouping of light fixtures will immediately elevate your space.
You can mix shapes and finishes but be sure there is a common element throughout them. For example, if you're using a black finish on one fixture with a globe light, the next fixture could be gold with a globe light. They don't have to be the same scale, but the shape will be the string that ties them together. This could also be the finish itself or the colour of a shade.
In the example below, you'll note that the island pendants have a black outer dome, the hall ceiling mounted lights have a black shade, the floor lamp has a black shade, the coffee bar sconces have a black outer finish, and the living room chandelier is in a black finish. These lights are all different styles, some with gold and some without, yet they tell the same story because of the black colour throughout.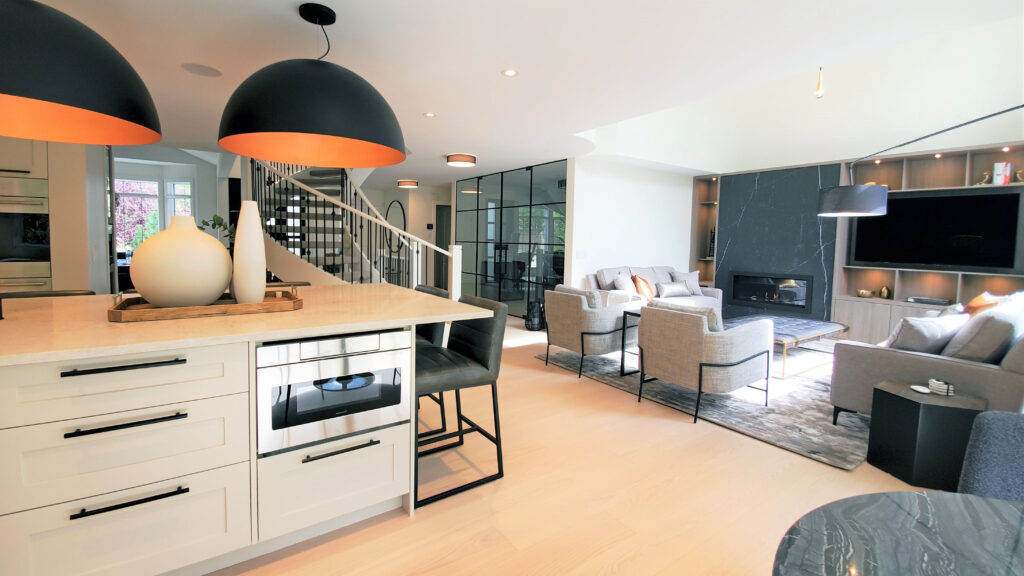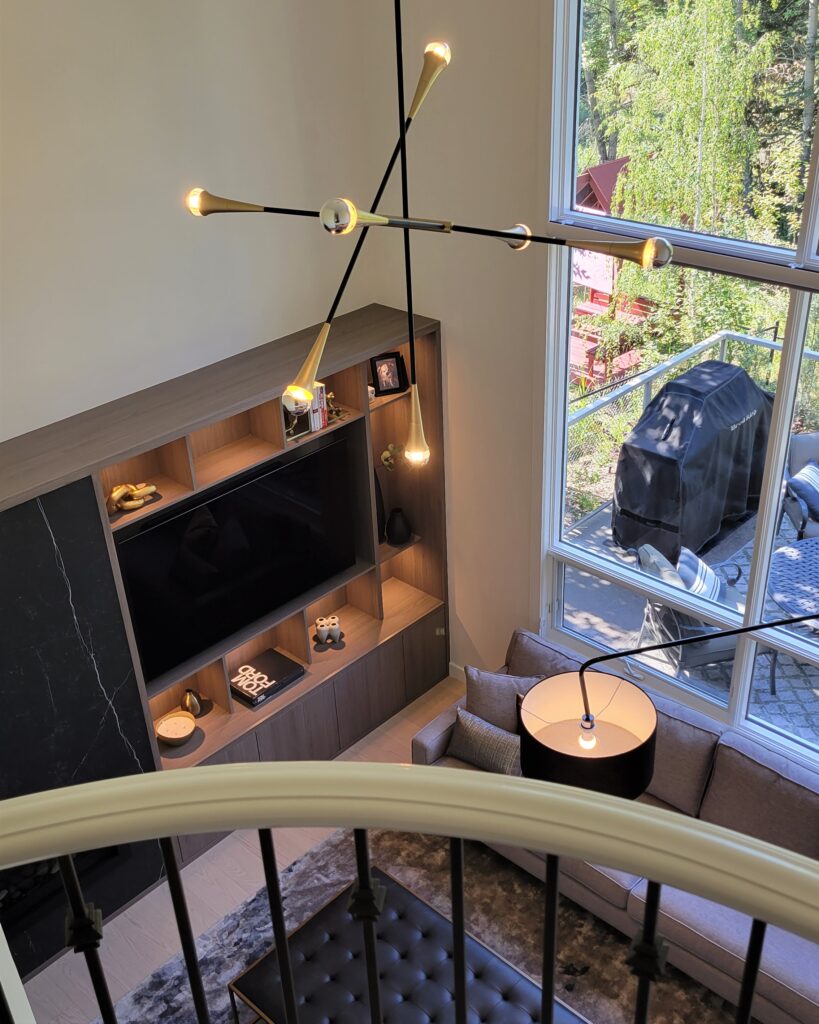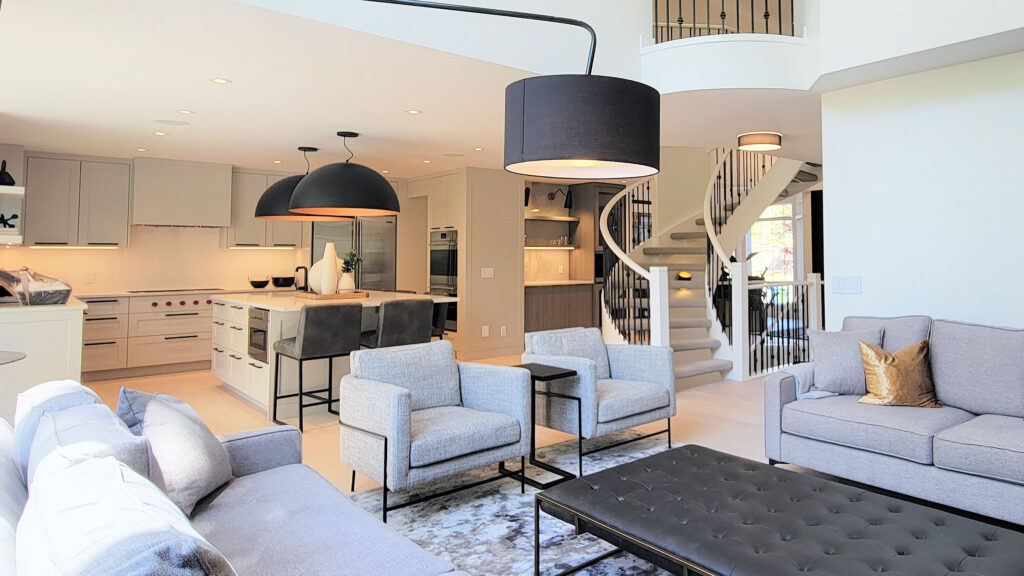 STEP 3. Consider the TYPE OF LIGHT & SIGHTLINES
The number of lumens a light produces impacts the brightness of a space. Wattage refers to the energy required, but brightness is measured by lumens. Warmth is measured in kelvins. The warmer the light (red/yellow), the lower the kelvins and the colder the light (blue).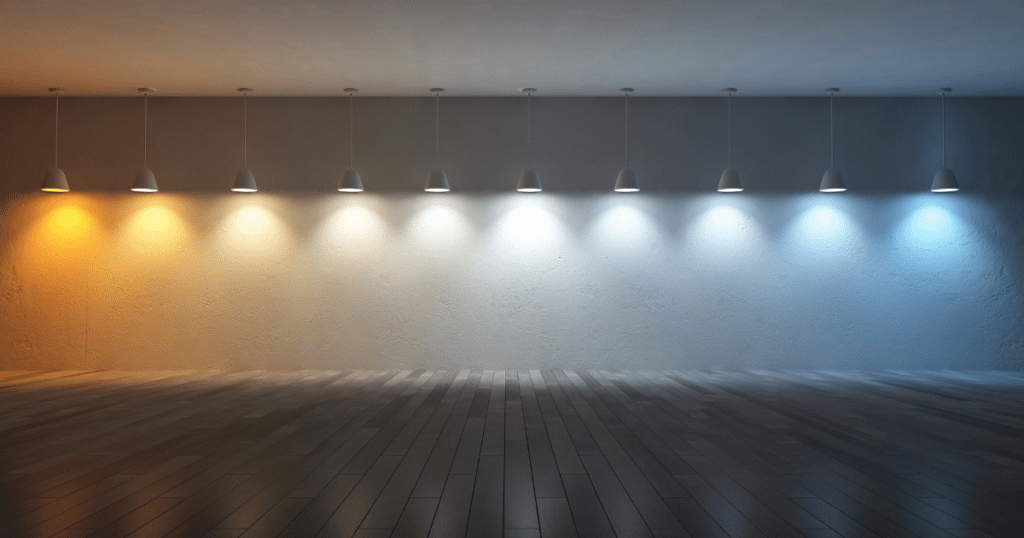 Would you like to have a natural daylight feeling in your home at night? You'll probably want to balance higher lumens with lower kelvins. The higher the lumens, the higher the kelvins, so there is a bit of a trade-off here. There have been studies on the negative effects of blue lighting, such as its impact on sleep (the circadian rhythm). For this reason, we suggest warmer lighting in spaces meant for rest like the bedroom.
You can have slightly different variations in the warmth and brightness of the lighting throughout your home, but the lighting in open plan areas should have the same colour of light as seen in the example below. Each light in this space is very warm.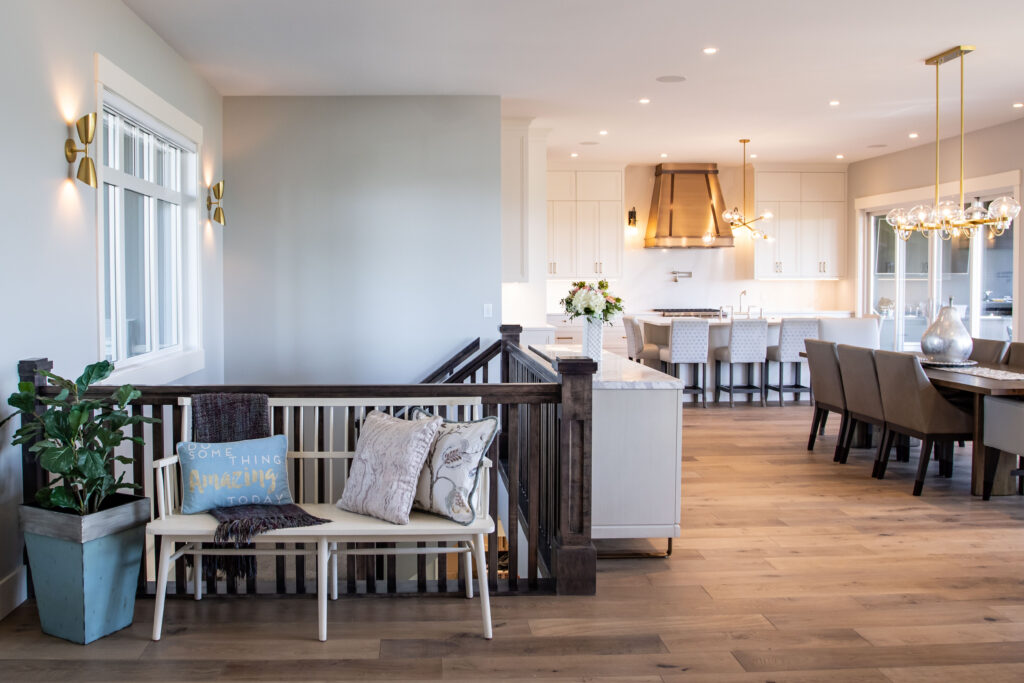 We always suggest that you enlist a designer's help with your lighting decisions. If you're building a new home, you can use the builder's designer or hire an outside designer to come with you to a lighting store and help you through this process. Why stop there when they can help you with all your finishing selections?
If you don't enlist the help of a designer, we hope this information helped empower you to select the right lighting for your home and your space. If you'd like some additional lighting rules to follow, take a gander at this House & Home blog on the subject. They've covered some other great tips that we have not featured here.
We'd love to discuss your next project with you! Let's talk lighting, furnishings, design — you name it. We're here to help you with your next design project.
If you're looking for some more inspiration, glance at our project page for more!