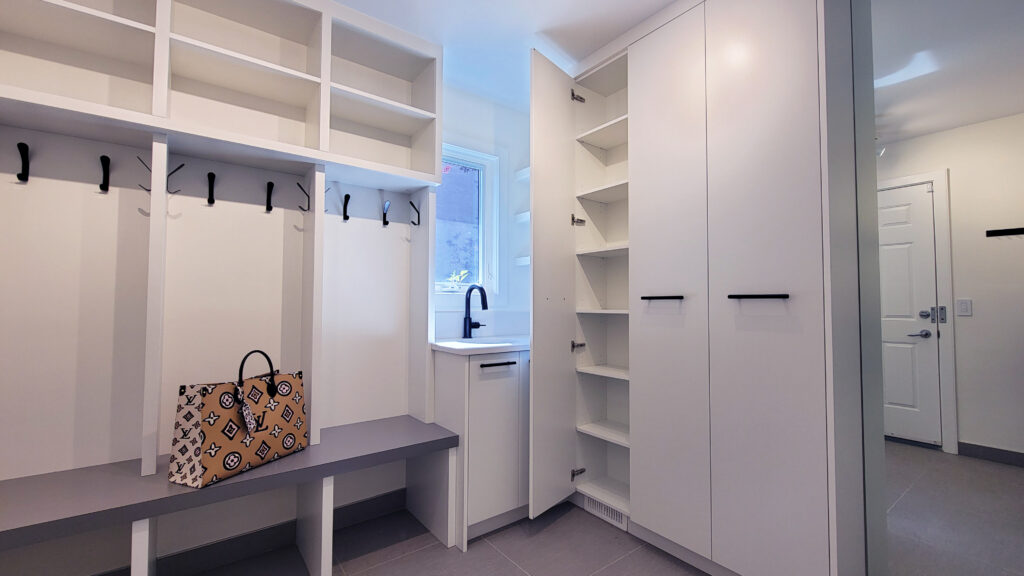 The kids are heading back to school and with that comes backpacks, binders, papers to sign, and glorious artwork you will no doubt display on your fridge. And let's not forget about the seasonal sporting equipment that you'll need to pull out of storage for those early morning hockey practices. If the idea of those things flooding your house gives you a bit of a flutter in your chest, you're not alone. Many parents struggle to find a place to organize their kids' things and keep their entryways open and functional. Organized spaces save you time and energy that you can put toward doing the things that make you happy. Let's go over some suggestions to make your entry and/ or mudroom kid 'stuff' friendly!
Back to School Inspiration
We look to the classroom for some organizational inspiration — if a teacher can keep 20 kids organized, so can we! In elementary school, children walk in and put their coats and backpacks on the hooks and lunch kits in their cubbies. They go to their locker in high school and put their things away. They do this daily, so we know they can — no matter what they tell us. The trick is to create a system and a space where they can do this at home. Is this system located in the entryway? Possibly. A mudroom would be ideal, but if this is not a possibility, the entryway may need a little zhushing to be functional and keep it singing the right note with the rest of the home.
Storage Solutions for Shoes, Backpacks & Coats
Young children need to be able to see their things. It's called object permanence or object constancy. It's better known by the idiom, "out of sight, out of mind". This can affect children and adults alike but is more common in children. If they can't see their things, then they will forget where they are and where they go — in essence they don't exist anymore. We must apologize in advance, as we can't fix the constant, "I can't see it!" yelled through the house when you've asked them to grab something you know to be clearly visible. We're good, but we're not miracle workers. If you solve that one, do let us know! For now, we will suggest ideas for your mudroom or entry that may help.
Open Shelving/ Hooks

Open shelving can add visual clutter when it's filled with functional non-styled items. However, it's more likely that your children will put their shoes and backpacks away on an open shelf if they can see them. If the sight of the shoes and backpacks bothers you, consider adding a basket to drop their shoes in, or a pullout drawer-style storage shelf.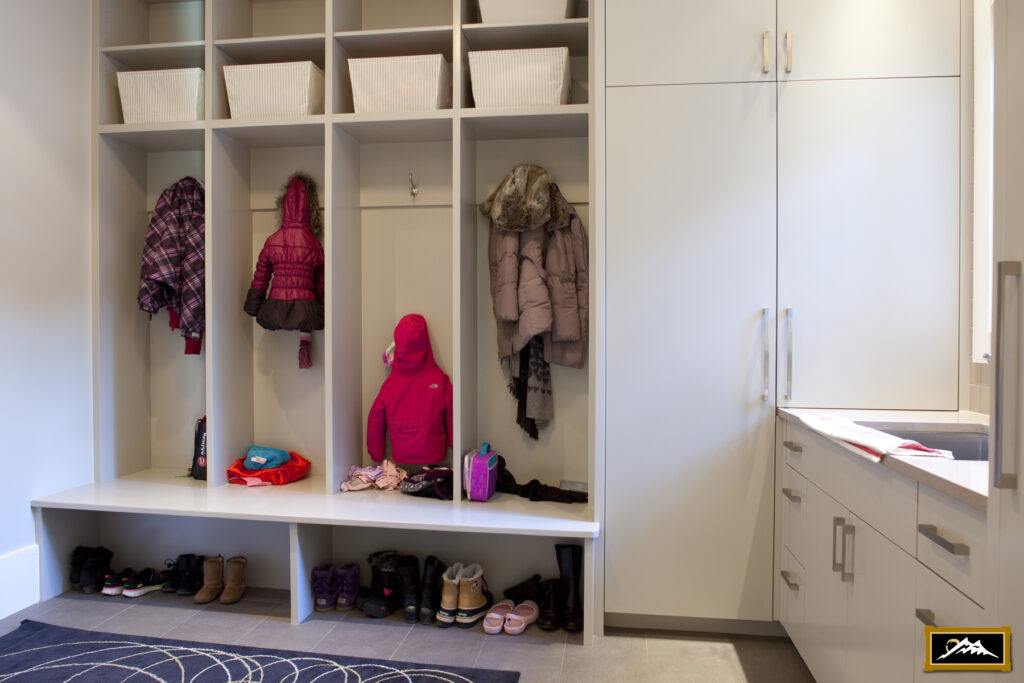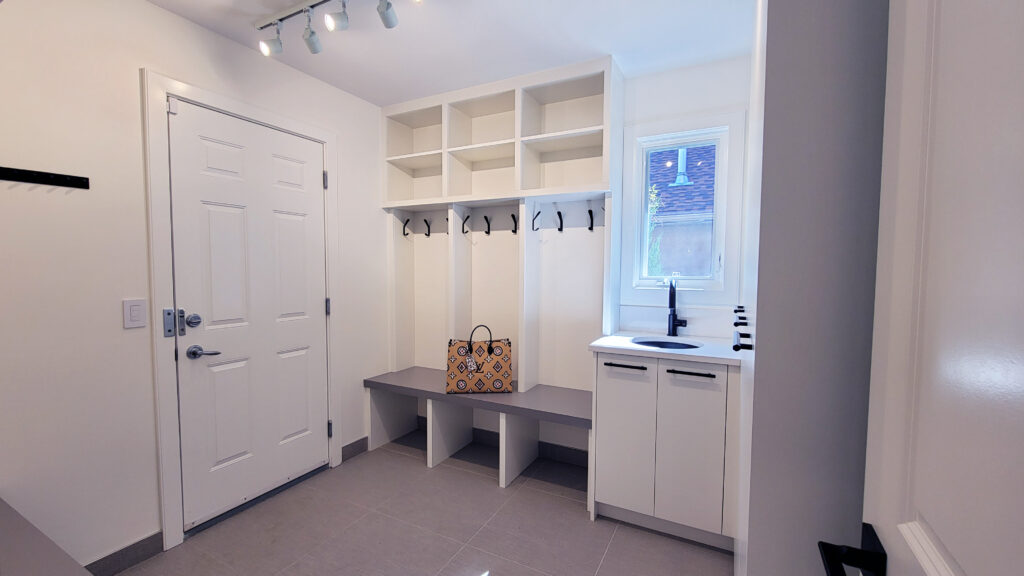 Enclosed Units

Enclosed units can feel imposing in a smaller mudroom but will remove visual clutter. Consider adding a unit that has drawers or pullouts to drop shoes and backpacks in on the base of the unit, a bench for removing the shoes, and closets flanking the bench above to hang coats. There are custom solutions for everything!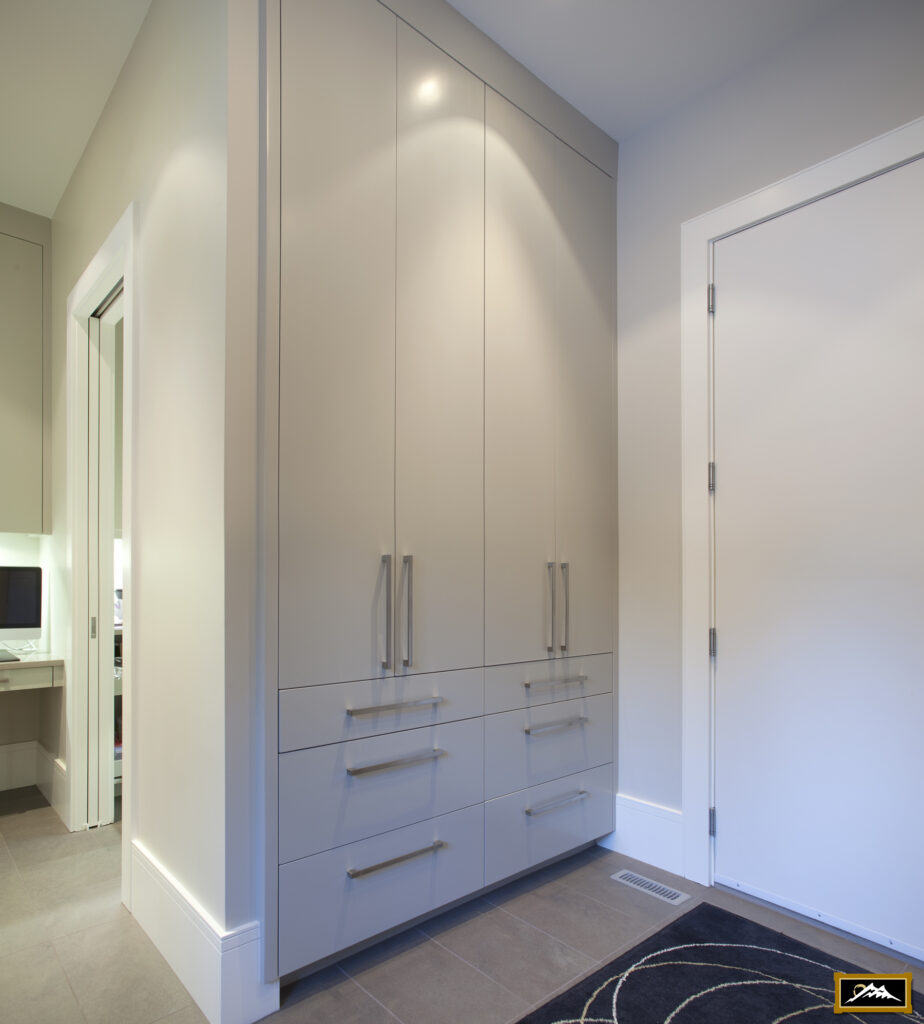 Use your existing closet

If you have a large enough existing closet in your mudroom or entryway, add a small shelving unit inside for shoes, and lower hooks on either side to allow your children to hang their coats unassisted. Consider removing the doors and replacing the trim around the opening to create an alcove for storage. This way you can add that gorgeous decorative console table you were eyeing, and you won't reduce the space or clean lines of your entryway. The drawback of this is you will limit the hanging space for guests and adults in the entry closet. Longer, adult-sized coats may have to find another place to live to ensure the kids will put theirs away.

Create storage in your kids' bedrooms

Sometimes the best solution is to store most of your child(ren)'s things in their bedrooms. Creating a built-in desk, storage unit, and/ or sitting area can alleviate a lot of congestion in the entryway or mudroom of your home.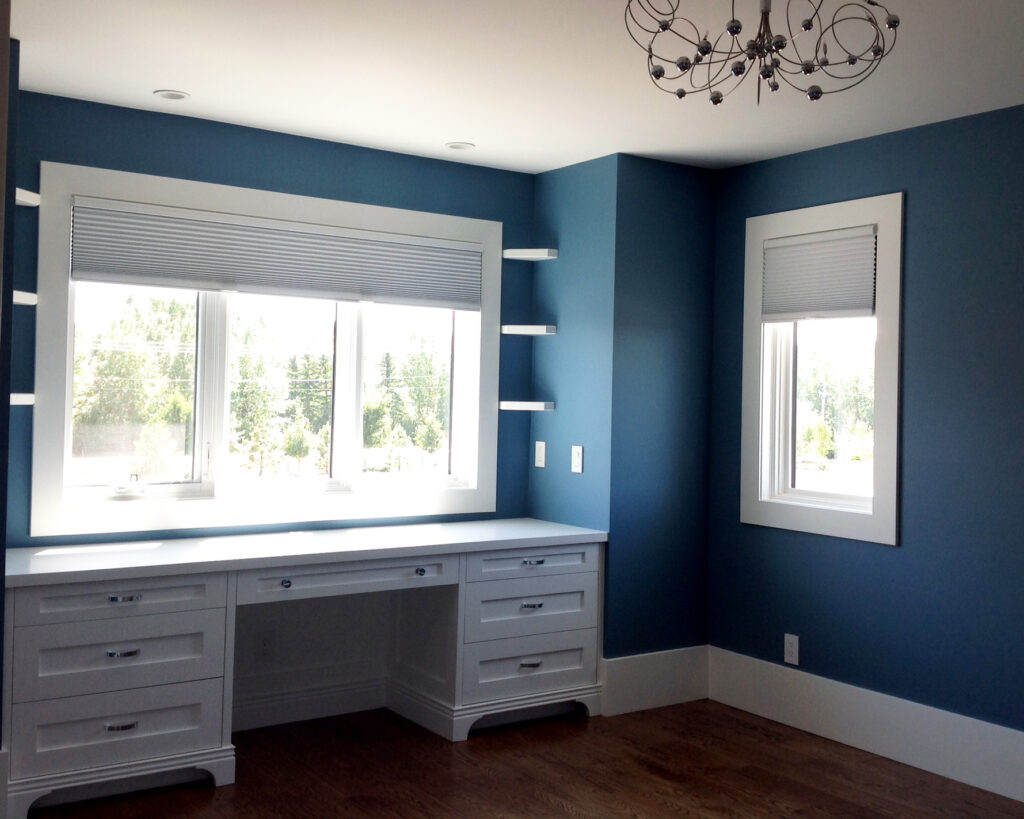 Paperwork & Art
Who loves paperwork? *Crickets* Young children bring home scads of one-of-a-kind creations. While each one is beautiful, the sheer number of them each week can be overwhelming, and mentally, they become nothing but paperwork. This is such a shame! We have both physical and digital suggestions to keep these mementos safe and not overwhelming.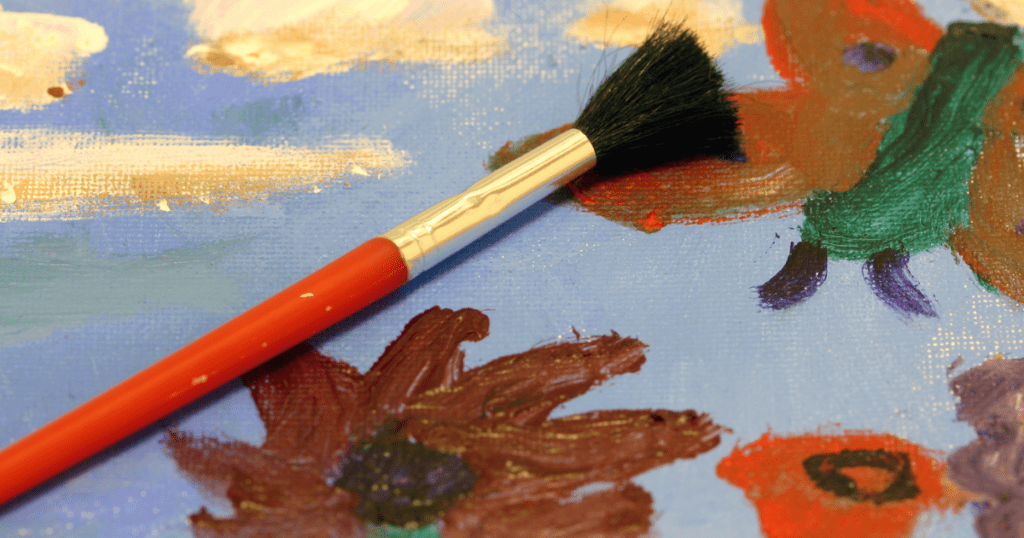 Have an intake box or drawer for each child at your primary entry point.

At the end of each week, take photos of the art and place them in a digital album with your child's name and grade at the time of creation. With your child, select one masterpiece from the pile to display for the next week at an agreed-upon location. This could be a framed bulletin board or a fridge if it is magnetic. After this week, choose to store or frame it. Recycle the rest of the artwork.

Instead of a digital album, use a binder system.

In addition to (or instead of) a digital album, purchase a set of identical binders or scrapbook albums. Date the artwork, hole punch it, and artfully fold large pieces to fit. Store or display the albums. Frame the favourites. These collections can get expansive, so recycle anything that doesn't tug at your heartstrings.
Real paperwork like permission slips, forms and such should have its own "to-do" drawer. If you need to see it to remember it, perhaps a tastefully framed bulletin board may help you.
Structural Design Solutions to Create or Improve a Mudroom
Your home may not have been built for how you live and there are times that furnishings and décor are not enough to fix a home's functionality. If you do not have enough space to add a storage unit, and your closets are too small to accommodate shoe and coat storage, consider enlisting a designer's professional help. We can see floorplan changes that you may not have thought possible to create the mudroom you've always wanted. Perhaps your powder room does not need to be as large, and some space can be borrowed from it. If you have laundry facilities in the mudroom, there may be an alternate location for them. There are countless solutions that we can offer to make your home functional for everyone.
Let us know when you would like to reimagine your floor plan! Krista Hermanson Design & Construction is staffed with professional Calgary interior designers who are ready to help. You'll have a dream entryway that represents your style, your home, and the ones you love and a mudroom that can handle your things! If you'd like some other de-cluttering tips, see our Hygge Guide for Decluttering Your Home.