Do you know the difference between an interior designer and an interior decorator? We love HGTV for bringing our profession to the masses, but what is shown on television tends to be more décor than design. And let's face it — not entirely realistic. The distinction between roles in the design world can be important when selecting the right professional to take on your project.
Let's dive a little deeper to determine if you need an interior designer or a decorator to help you realize your dreams for your home.
What is interior design?
The International Interior Design Association (IIDA) says, "Interior design is defined as the professional and comprehensive practice of creating an interior environment that addresses, protects, and responds to human need(s)."
So you see, décor is included in interior design and why it might get a bit convoluted. Interior design focuses on the function and flow of a room, whereas décor is the finishing touch of aesthetic appeal. Interior design is any time that you arrange a space for function by altering the furnishings, structural layout, and cabinetry, or by adding décor and accessories.
In some countries, the interior design profession is called interior architecture because it requires additional education, building codes, and drafting knowledge. That means you can't become an interior designer without education. A person can't decide on a whim to say, "Hey, I'm an interior designer!" Contrarily, while there are programs to get an education in interior décor, education is not necessary to begin a career as a decorator.
Why does this matter? Because of their education, designers can make decisions that will help you and your home long-term. Along with how you use your home, they consider each trade or discipline in their process so they can suggest designs that will result in fewer surprises down the road. These deeper considerations allow you to have a beautiful space that adds to the functionality of your life.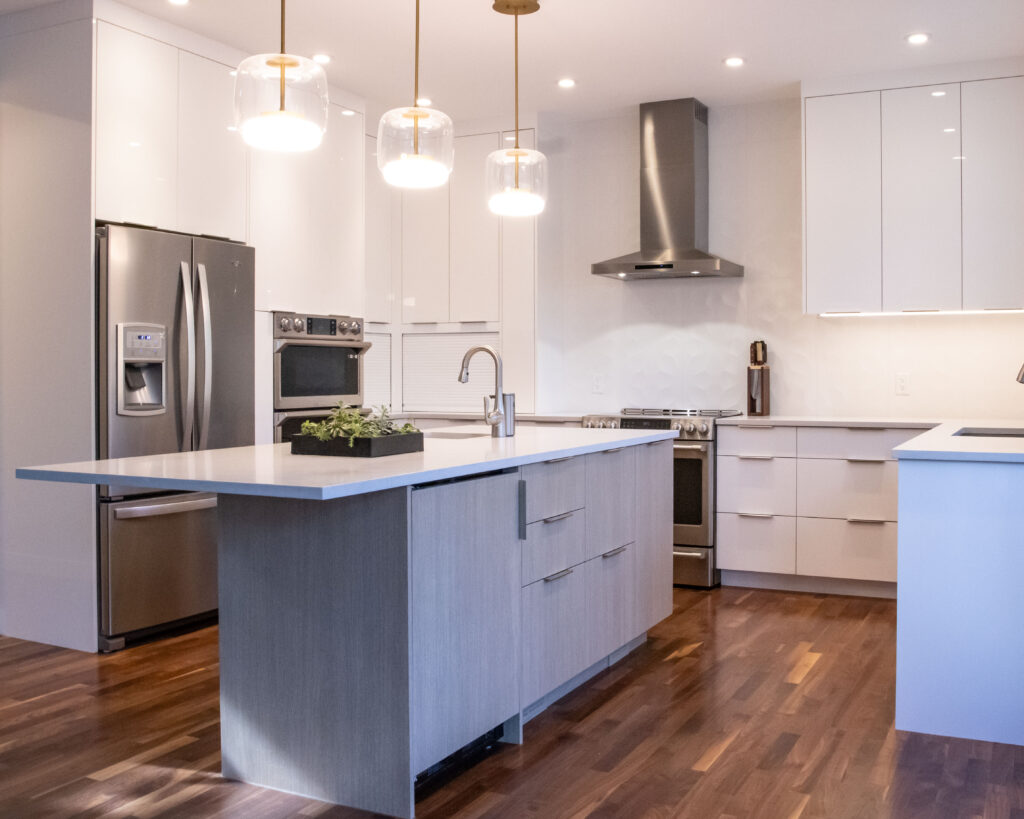 What is interior décor?
Interior décor is the soft finishes and it's the icing on the design cake. These are primarily the finishing touches. They might be accessories, art, furnishings, lamps, throws, pillows, linens and the like. For the most part, it's things you could take to your next home. However, it can include things you aren't likely to take with you like wallcoverings and paint. Interior decoration is an art and a skill that takes time to hone.
It's not likely that an interior decorator will move walls or design a custom kitchen or bathroom as they have not been trained to do so. They can help you work with your custom kitchen designer, but they're not likely to design the kitchen themselves. A decorator may suggest finishes (cabinet styles and colours, countertops, faucets, and hardware). They can collaborate with your contractor, but they're not likely to produce a full set of construction plans like an interior designer would. If your plans include any of these things, you should connect with a designer, not a decorator.
Can an interior design project include décor?
A space is not complete without décor! That being said, whether or not a project includes décor is dependent on the client's needs and goals. Some designers prefer to focus on projects that include furnishings and décor and there are those who enjoy the more technical aspects of creating a functional and beautiful space. It's always a good idea to ask your interior designer where their passions and expertise lie.
An interior design project may include strictly layout changes, finishes, wallcoverings, and lighting. It may include limited to no décor at all. Some of Krista Hermanson Design's projects do not include accessories or furnishings. In those cases, we have often made extensive structural and layout changes to the home. After such a large undertaking, the client may wish to take a break for a while. Later, they can reach out again for help with furnishings and décor for the space. During every project, designers will give suggestions to send the client in the right direction for décor and furnishings to come.
Here's a quick comparison of these two design fields
Interior Designers
---
Have a 4-year degree in interior design OR a 2-year diploma in interior design and an advanced certification such as NCIDQ which takes a minimum of 2 years to qualify
Knowledgeable in and legally required to adhere to building codes and safety requirements
Can complete structural and layout designs for your home with the sign-off of a civil engineer if required
Are trained in drafting and can complete entire plans of your home
May coordinate entire construction projects and work with trades
Can become general contractors themselves, so they can control the process from concept to aftercare
Can help you with furnishings, window coverings, and décor
Often have relationships with high-end trade-only stores
Have a wide range of focuses and skills that may include a primary service of décor
Can be found in design firms with other designers, as freelancers, in kitchen design stores, or working for home builders
Interior Decorators
---
Don't need formal education, but may have certifications
Can complete room layouts, but it is unlikely that they will produce full construction plans unless they have taken extensive drafting education
Aren't required to be trained in building codes and safety requirements
May have skills in CAD drafting, but will likely use mood boards and sketches
Don't coordinate large construction projects, but may oversee trades on small projects and work with a renovation company/ project manager
Often have relationships with high-end trade-only stores
Can be found running their own firms, as freelancers, partnering with realtors to sell homes, or in furnishings stores
How do you choose?
A decorator/ stylist or stager is a great option when you need a little assistance with the look of your home. As credentials are not required for an interior decorator, stylist or stager, the average interior decorator's hourly rate is often less than an accredited interior designer's rate. If budget is a concern, select a decorator.
Engage an interior designer when you need to improve the functionality of your home. If you need to change the layout of your space or have something that needs updating with the bones of your home, an interior designer can help. Designers will look at your space holistically and create a cohesive space from the function to the feel. They can assist with all aspects of your renovation and are very likely to spot things that you may not have considered. They can also help with all things décor. While an interior designer's rate may be more than a decorator, you're going to get a higher, and more long-term return on your investment.
Always check credentials and look at portfolios to see what types of projects the interior professional specializes in. Whichever professional you select, be sure they are insured and qualified to do your specific work. For more information on what to look for in your renovation professional, read our blog on how to hire the right renovator.