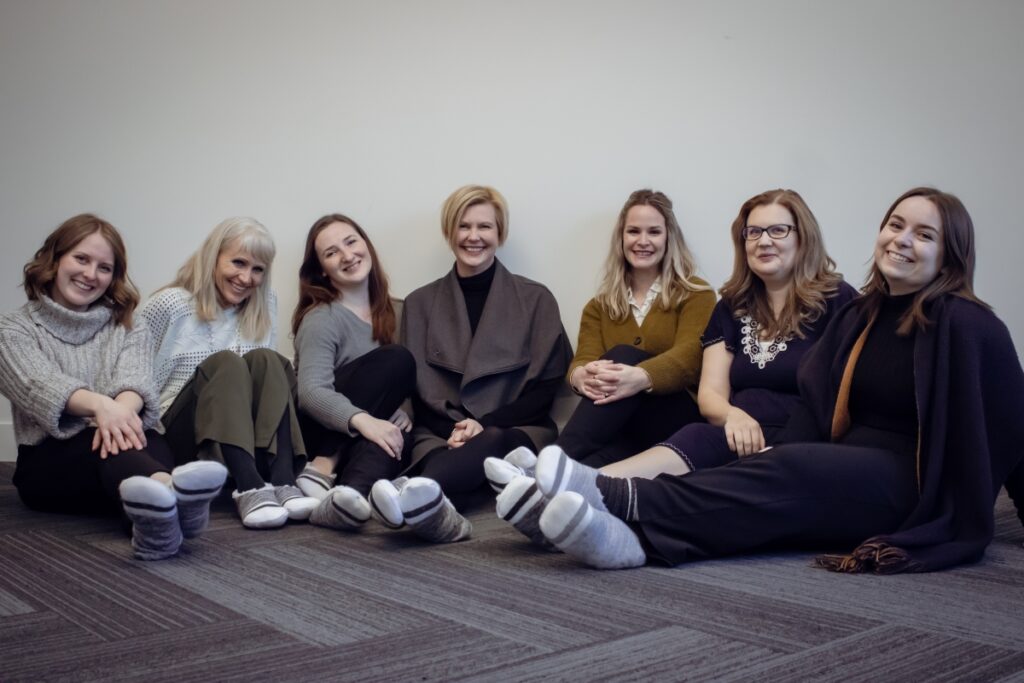 Updated Feb 1, 2022
Brrrrr!  Baby, it's cold outside and it's going to get colder yet. But don't despair! KHD personally declared February 1st to be National Hygge Day in 2019 and we have been celebrating ever since. We're working on making it official!  Hygge (pronounced hoo-gah) is a concept that inspires joyful living, togetherness, peace and warmth.
So, in this, our 18th Anniversary Year, we offer 18 fun ways to bring a little hygge into your life!
Create a little hygge for yourself (1-11) and your home (12-18).
Celebrate the bad weather by snuggling up with a cozy blanket (and maybe a loved one or two). Warm textiles and soft textures shout hygge, and they also add a layer of dimension to your space.
Strike a match and light some candles. The Danes burn more candles per capita than any other country on the planet. They are also reportedly the happiest nation. Could this be their secret happiness recipe?
Enjoy a tasty treat. Maybe a favourite bakery item: did someone say cupcake?  Decadent desserts and treats are positively hygge-licious!
Host an impromptu intimate gathering. Invite friends or neighbours over for something simple. Cook together. The focus is on the shared experience, not channeling Martha Stewart. The hygge bonus of softly candlelit rooms = less obsessive cleaning required!
Make a hearty meal like a home-made soup or chili. Need I say more?  Homemade cooking is so good for the soul.
Savour a delicious beverage like Mulled Wine. Check out our hygge page for my favourite glogg recipe.
Play an old-fashioned board game or create a puzzle. I'm currently in love with jigsaw puzzles. They slow everything right down and allow for quiet conversation and contemplation.
Put down the electronics, turn off the television and talk to each other. Pretend it's 1985 and WiFi doesn't exist.
Play great music, and get extra hygge happiness points if the music is live. Guitar, anyone?
Light a fire in the fireplace.
Draw yourself a bubble bath and read a good book!
Introduce natural elements like plants, wood, wool, and cotton. Tactile textures are so hygge.
Surround yourself with meaningful mementos. Artfully arrange photos of loved ones, treasures from your travels: objects that inspire you.
Create a conversation corner. Fill it with art books, throws, comfy furniture, and a beautiful handmade rug.
Keeping cozy is most important in the winter months! Rather than hide from the cold, embrace it with a year-round outdoor area. Breathe in the crisp winter air as you sip a hot cocoa and warm yourself on comfy chairs by your outdoor fire.
Add a throw or a huggable cushion to make your living space welcoming and calming.
Choose comfortable dining chairs to keep the conversation going. Upholstered chairs keep your guests focused on the beautiful conversation and not on how sore they're getting.
Add fresh flowers whenever you can. They add joy and life to any space.
And, of course, do it all in a super-cozy pair of socks or slippers. Hygge heaven!
How will you hygge today?
Examples of Hygge Interior Design
Krista Hermanson Design is a Calgary Interior Designer that specializes in residential renovations. We have worked with many families in Calgary who have felt disconnected to a certain area of their home, and we listen just as hard when our clients talk about budgets and timelines as we do when they talk about their vision for the space. It's this process that has enabled us to complete hundreds of renovations on budget and on schedule.
Want to get in touch with us in 2019? Lets Talk.
Similar Posts from the Krista Hermanson Design blog: