This case study is a little bit different. We recorded a video onsite for those visual individuals like ourselves. We will share the video in two parts, but we still wanted to be sure that this information was accessible to all, so we decided to write it all out too. You choose how you want to see how this exciting transformation came to be!
Here is part 1.
When we first met this family, it was clear that they live life to the fullest and deeply experience every moment. They were already living the hygge life, but they needed their space to become a hygge space. That's where we came in. We had long conversations about how they lived and what they were looking to see. As always, we listened hard, and the result was stunning.
As soon as we walked into the home, we noticed that the home was not flowing well. There were walls at strange 45-degree angles and half walls creating pinch points and breaking up the flow of the space. We didn't gain any square footage in this renovation, but we gained a lot of functionality by moving around a few walls here and there. In addition to all the things we will mention in this study, we replaced the flooring, painted the walls a bright white and updated the lighting fixtures throughout the home.
Main Floor Transformations
Dining Room
We'll begin our case study at the front entrance of the main floor and move around the main floor from there. Instead of a cavernous front room that felt unused and a bit neglected, we now enter the home to a dining room showpiece complete with a large lighting fixture and a newly framed art piece that was very dear to the homeowners. Its much wider white matting and large black frame makes it the focal point at the centre of it all. Cushy upholstered seating for eight and room to add additional chairs make this dining room fit for the incredible dinner parties we know will be thrown here. To keep this room grounded and add a little bit of an architectural detail, we placed a black beam at the peak of the ceiling.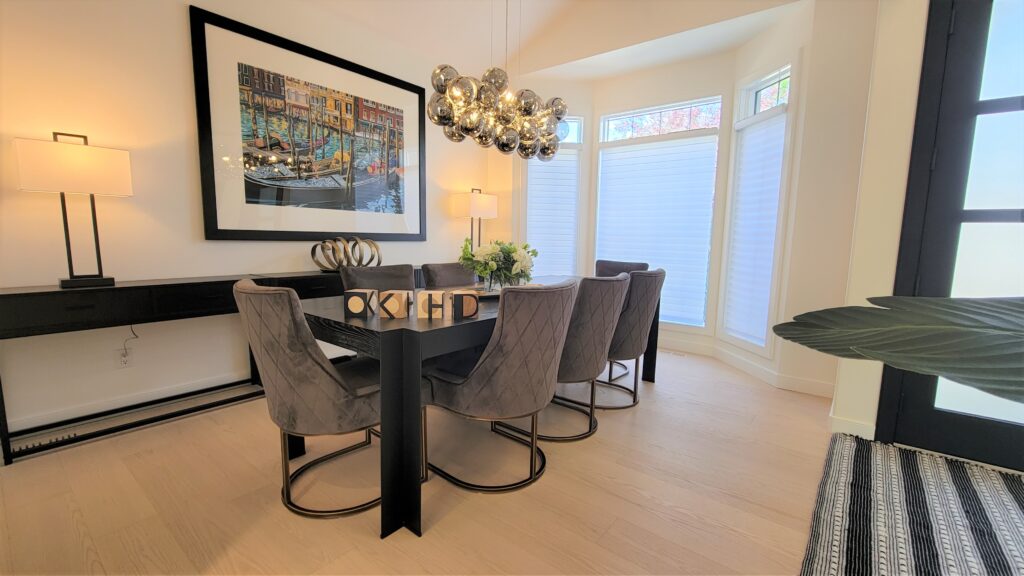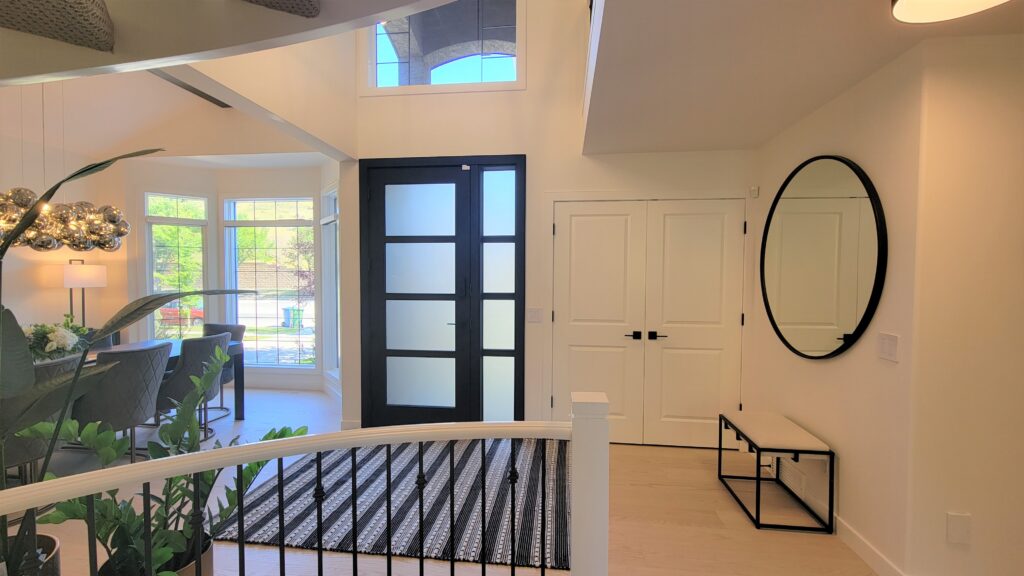 Kitchen & Pantry
The kitchen layout stayed somewhat similar, but we gave it a new lease on life with all-new cabinetry, countertops and backsplash.  The under-sized island was upsized with a gorgeous conversation area – complete with a microwave hidden in the lower cabinets and seating for five people. That's enough for this family of four and a guest. The scale of these gorgeous light fixtures makes this kitchen a showstopper.
We reengineered a structural wall between the kitchen and the dining room to open up to the gorgeous natural light at the front of the house and to connect the two areas. We reworked the old dining area to give our preserve-making homeowner a dream pantry/ office, complete with ample storage and natural lighting. This pantry's hidden entryway looks like just another cabinet in the kitchen, but when you push it open, it reveals a generous space with a laptop desk and loads of shelving and bins for all the homeowner's preserves and other gourmet goodies.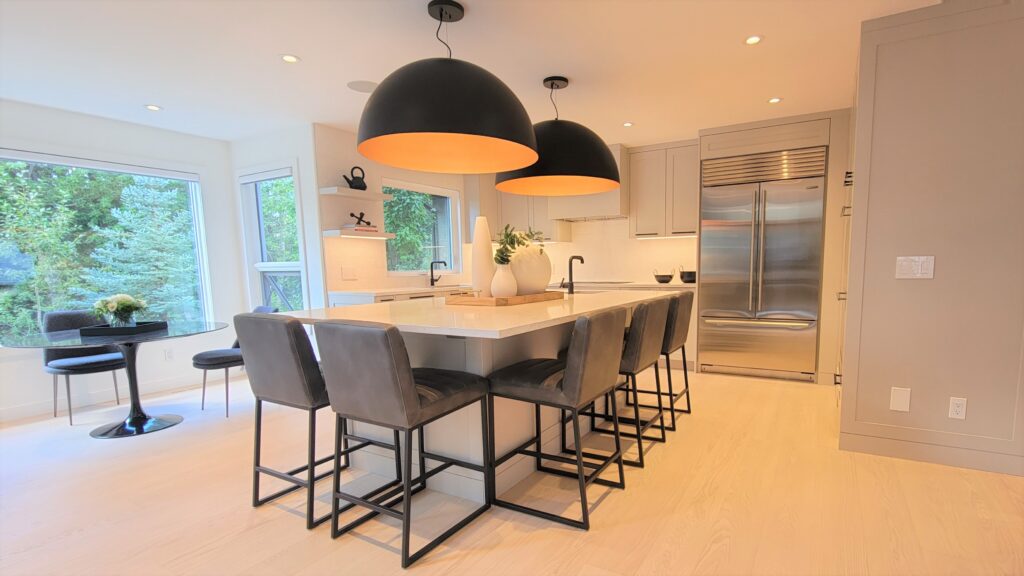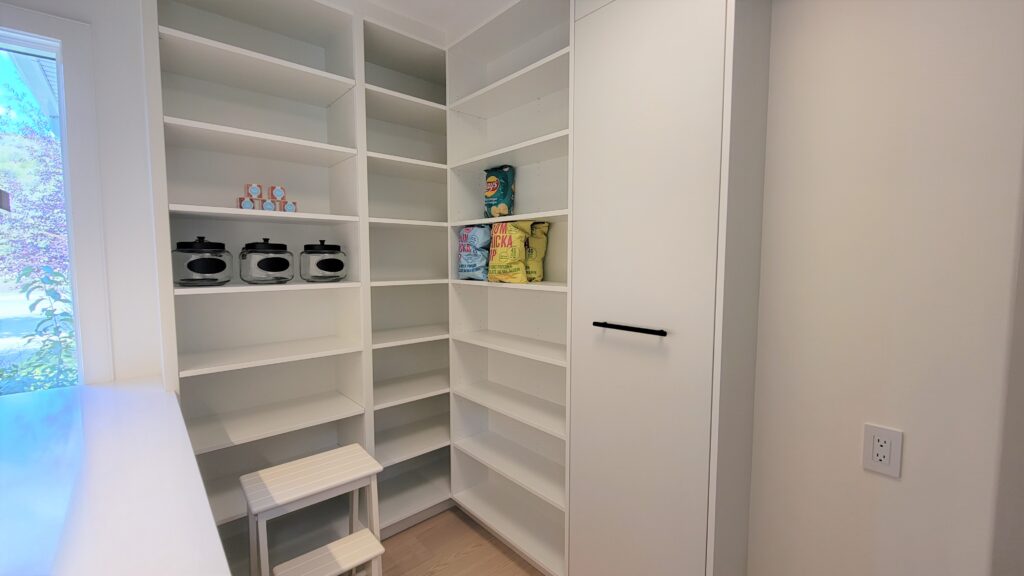 Entertainer's Wet Bar
Now how do we serve all those guests their drinks and not trip over the chef preparing the meal? Why we add a strategically placed wet bar, of course! When we moved the structural wall to create the dining room and pantry, we took advantage of the space with a fully equipped bar. This way the chef can continue to prepare the meal while their helper quenches their guests' thirsts in the dining room. We installed drawers that can hold the weight of bottles and all the accessories to create a tasty cocktail.
The homeowner loves coffee, so we added a built-in Miele coffee station with a fridge for creams and flavourings. They'll never have to go to the coffee shop to get great coffee since we gave them a few bags of Icelandic beans to percolate the perfect cup in their coffee station. Icelandic coffee is arguably the best coffee in the world. Okay, it's us who says it, but that doesn't mean it is not true.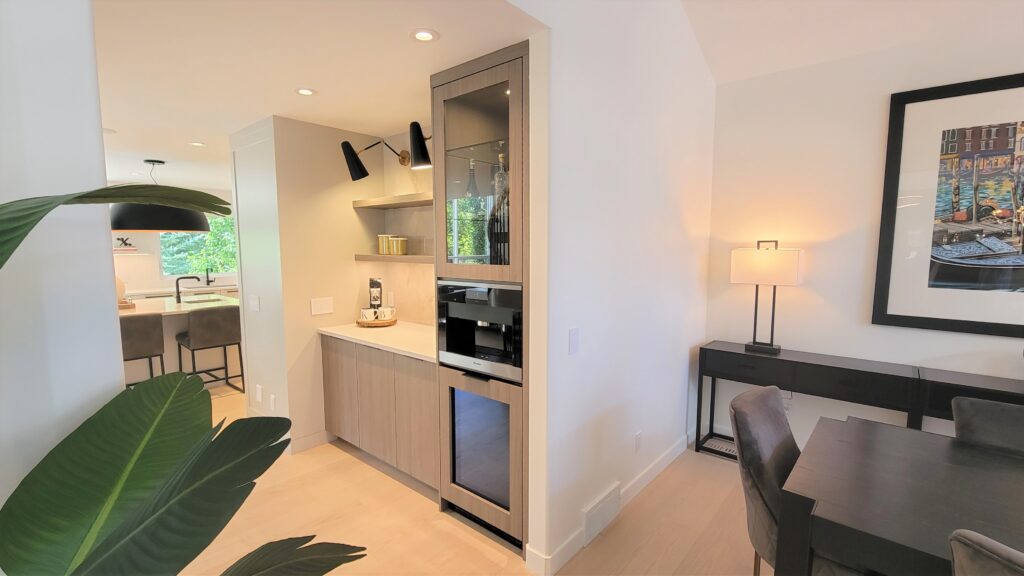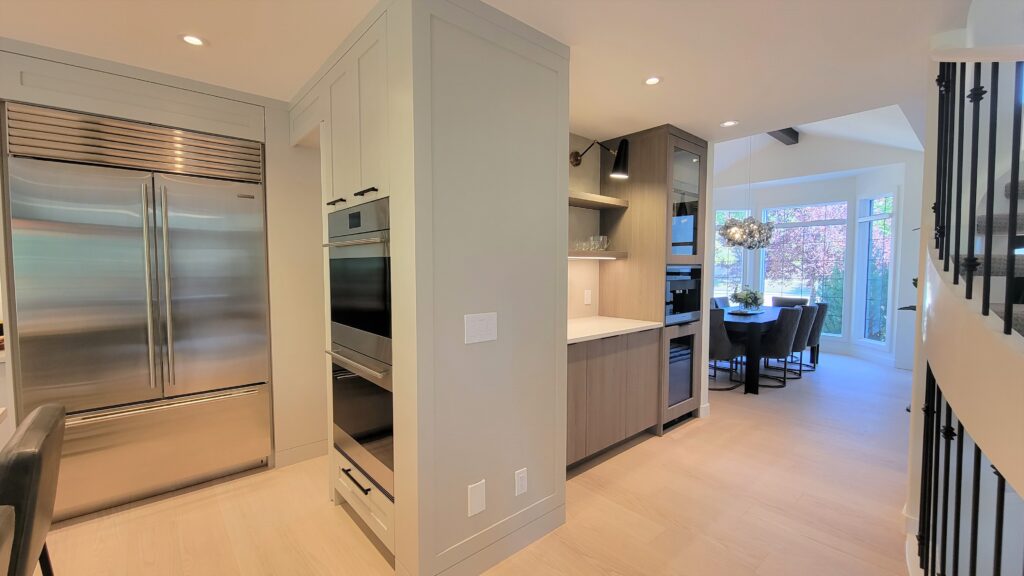 Living Area & Office
We replaced the existing gas fireplace and built-in shelving with a modern gas fireplace and shelving in the family room adjoining the kitchen. There is so much storage in this room that every artifact can have its own place. Don't forget to look up in this 14-foot ceiling room with floor-to-ceiling windows because the lighting fixture is another grand focal point in this home.
The main-floor office had some odd 45-degree corners and a perch desk nestled behind the family room. This layout was causing an unnecessary pinch point. We removed the 45-degree walls, took out the non-structural office wall and replaced it with glazing and black steel to match the rest of the black accents in the home. This lets the light from the office window pass freely through the space and makes it feel much larger. And that's where part 1 of this case study ends.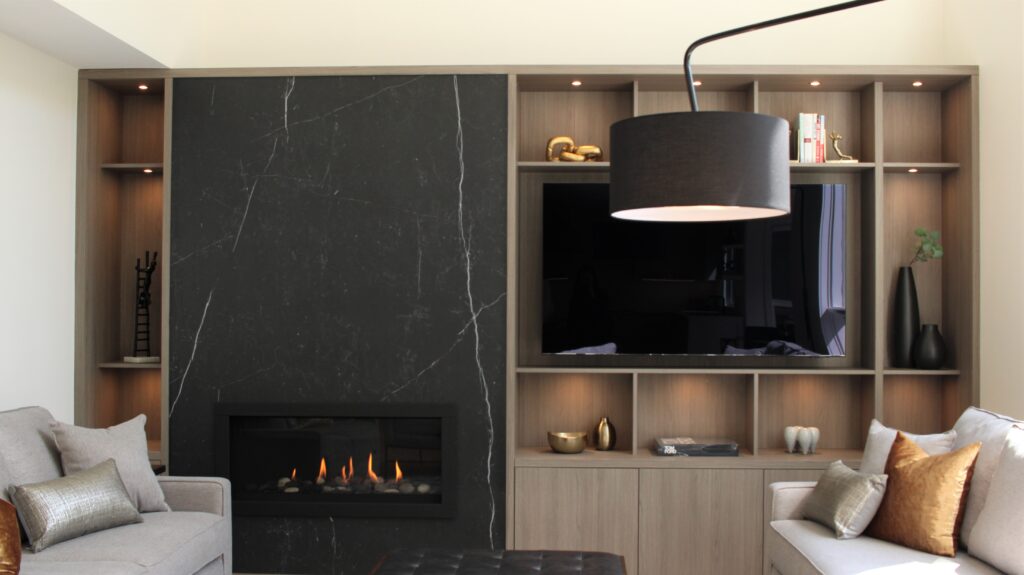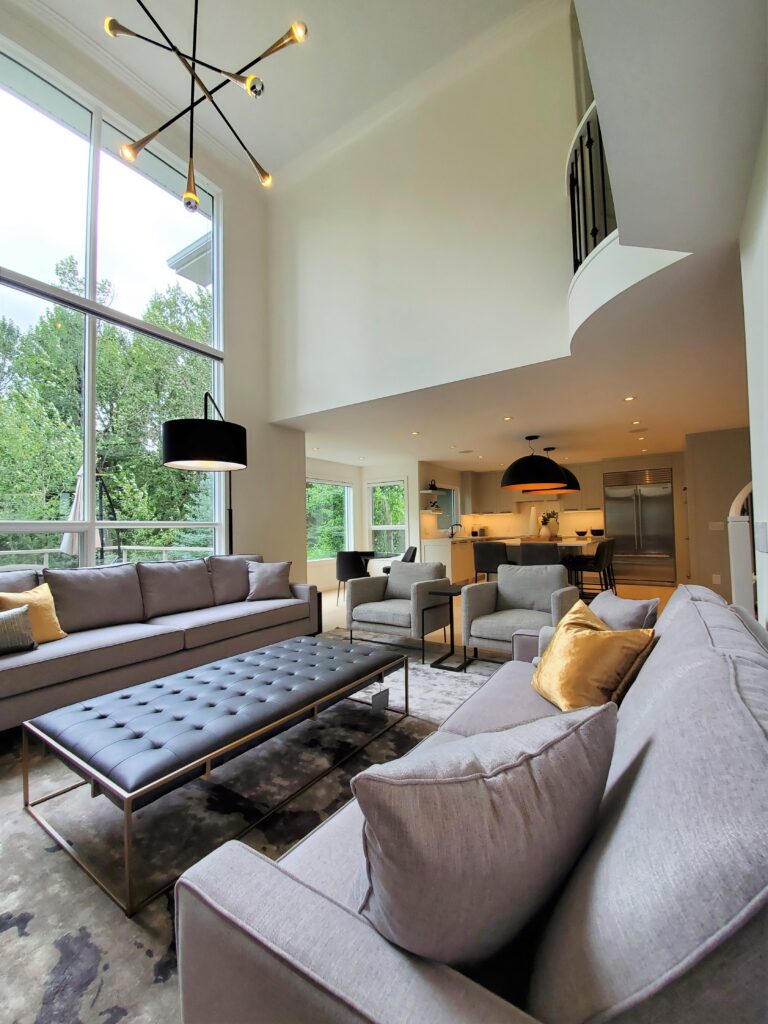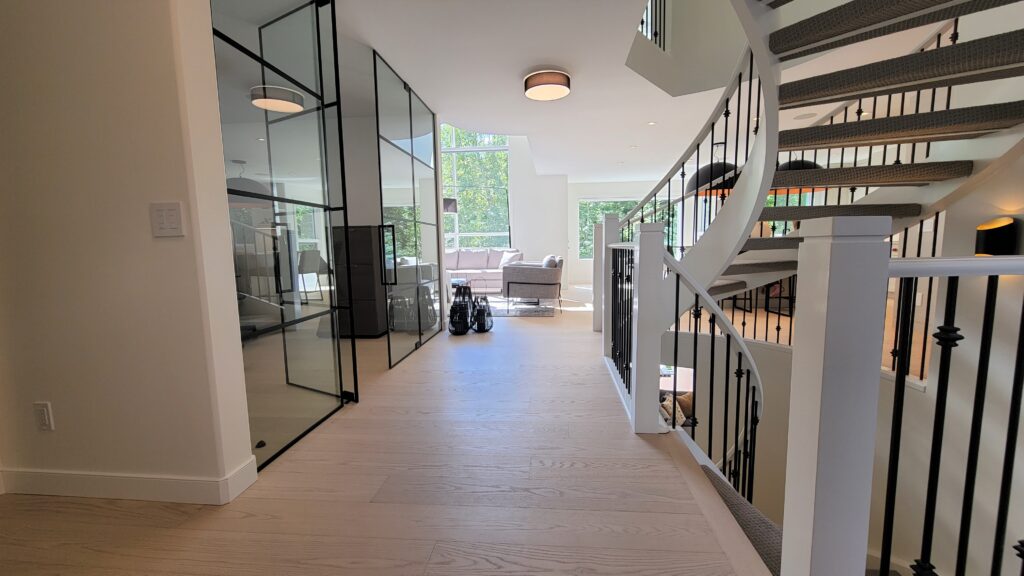 Did they fall in love with their home?
You'll have to continue to part 2 of this case study next week to see the rest of this home's transformation and find out if they fell in love with their home! In the meantime, explore our services and when you're ready to fall in love with your home, let's talk.