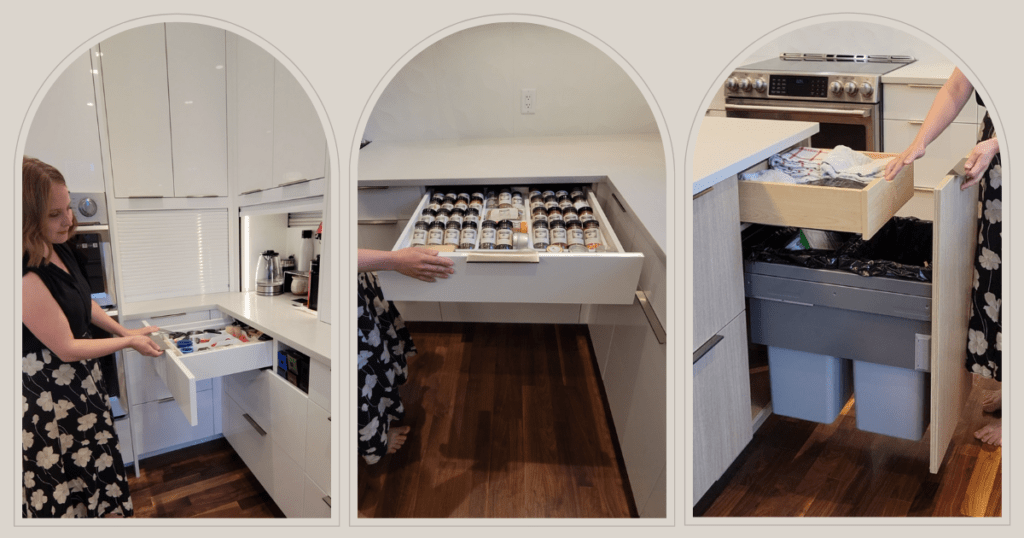 Kitchens are arguably the most complex room in the home and for good reason. Everyone ends up in the kitchen. It does the job of 10 rooms in one. So when you're thinking about kitchen design, are you envisioning a sink, a range, a fridge, and a coveted large island for your family and friends to sprawl? Those may be the major areas of a kitchen, but the really good bits are the kitchen cabinet accessories! These are the space-saving, not to mention back-saving elements of the kitchen that make prep work quick and enjoyable.
1. Pantry solutions


Maximizing the storage and accessibility of your pantry items is key. You're in and out of the pantry several times when cooking. "Oh, I forgot the sugar!" and you walk back into the pantry to retrieve the forgotten sweet. If you like the idea of having some of your most-used pantry items within arm's reach while cooking, pantry pullouts are for you! These functional beauties are designed to fit into your custom cabinetry. They are game-changer kitchen cabinet accessories!
Have you bought duplicate spices or oil because it's been hidden in the back of your pantry shelf? Pantry rollout shelving units can save that headache. There are many options for pantry pullouts and they come in a range of widths. Perhaps you would like to use it for one row of spices and oils or canned goods, or perhaps you wish to have all your baking ingredients accessible in the kitchen.
We will discuss our two favourite options:
Single Unit Multi-Shelf Pullout – These pantry rollouts are full-height and hidden by a hinged cabinet door or a solid piece affixed to the front of the unit. They pull out as one so you can access all your items from multiple angles. Without pulling out each item, you can clearly see the level each pantry item is at and if you have the correct ingredients to make grandma's ginger snap cookies!
Individual Drawer Pullouts – These are pullout drawers hidden by a hinged cabinet door and each drawer pulls out individually. Your entire cabinet could be filled with them or just one or two that hold the most difficult-to-see items with the rest being regular stationary shelves.
2. Blind corners & corner carousels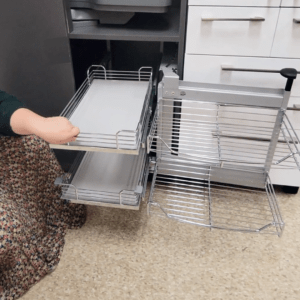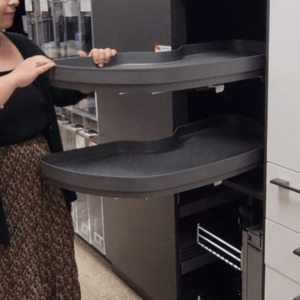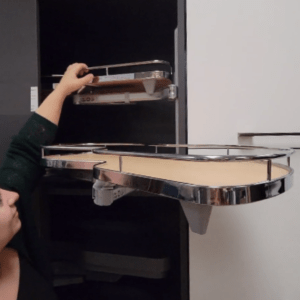 Corner Cabinets – we can't avoid them. In nearly every kitchen, there is usually a corner cabinet that has an incredible amount of wasted, inaccessible space. For years, the solution was corner carousels. They are still great at a basic level, but we would love to introduce you to a couple of better ways that allow you to fit more items.
Rectangular Blind Corner Units – These shelves are on hinges that allow you to pull the shelf completely out of the cabinet to be able to access all items in the cabinet. As they are rectangular, they allow you to utilize more of the cabinet space than a carousel's rounded design.
Kidney-shaped Blind Corner Units – These shelves are on hinges that allow you to pull the shelf completely out of the cabinet to access all items on the cabinet. As they are kidney-shaped, they do lose a bit of accessible space in the cabinet.
3. Recycling, composting & waste bin storage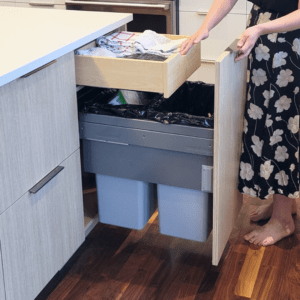 Modern city living has changed in the last 30 years. Recycling came to the forefront in the 2000s and composting in the 2010s. Most kitchens were designed to house a waste bin under the kitchen sink and that's that. Now, in Calgary especially, we have a blue bin (recycling), a green bin (composting) and a black bin (waste). Many clients have found creative solutions for storing these bins, often finding space on the floor of the pantry. It works in a pinch, but we always suggest that you invest in a pullout drawer to organize these bins to keep them off the floor and your kitchen uncluttered. Might we suggest adding a smaller separate drawer on top to hold bags?
4. Appliance garages & drawers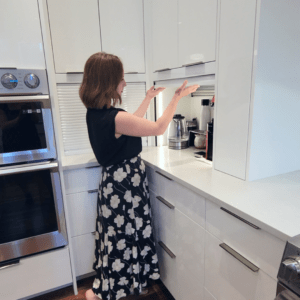 You might notice a theme of keeping your kitchen goods easily accessible, organized and hidden. If you have an ornate KitchenAid mixer that holds pride of place, who are we to say hide it away? However, most appliances aren't as streamlined and beautiful as that. Often, they add to visual clutter in the kitchen and make it look untidy. No one wants a dirty kitchen – even in appearance only. These kitchen cabinet accessories offer solutions for that.
Appliance Garages – Keep your appliances on the counter but hide them in inconspicuous appliance garages. These can be enclosed by your selected cabinet doors or a coordinating tambour door.
Reinforced and Powered Drawer Units – These drawers are strong enough to hold your appliances. You can include an outlet in these drawers so that you can use the appliance in place while the drawer is open. For fire safety reasons, the electrical outlet is set to cut power once the drawer is closed. This solution is good for vertically-challenged individuals who would prefer not to have to lift a heavy appliance to the counter each time they want to use it.
5. Drawer organizers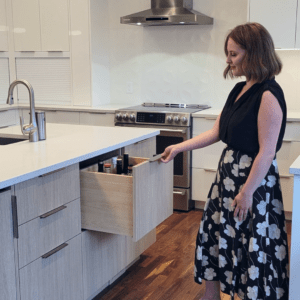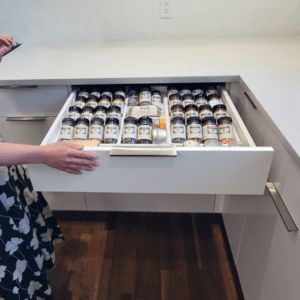 Of course, we couldn't write a kitchen cabinet accessories blog without mentioning drawer organizers! Drawers have become a welcome trend in kitchen design that is sure to stay. There are so many storage accessories that work within deep soft-close drawers.
Laddered Spice Organizers – If you do not put your spices in a tall pullout cabinet, we love the idea of spice stands that fit into the drawer, so each spice is easy to grab and see. We love placing things in individual sections so it's easy for all family members to put things back where they found them. Everything has a place, and everything can be put in its place. It helps maintain order and limits cleaning time. Who likes cleaning? (We can't all be Monicas).
Deep Drawer Inserts for Cooking Utensils – If you like the look of cooking utensils on your counter, look away now. Drawer inserts that separate your cooking utensils and knives are our jam. Any time you can put vertical storage in a drawer, you're saving space and who couldn't use a bit more space?
6. Fun things we'd love to put in a kitchen
Pull Down Shelves – Considering those vertically challenged individuals we mentioned before, high shelves might as well be Mount Everest or Machu Picchu! Rather than having that stool in the corner or forgotten items left to gather all manners of dust, why not have a shelf that pulls down to meet you? This has so many applications beyond the kitchen. The possibilities are endless.
Charging Station Drawers – Though the appliance drawers won't stay powered while the drawer is closed, there are new charging stations that will! No more moving the charging cable out of the way to chop the carrots. The phones and cables can be safely tucked away inside a powered drawer.
Closing thoughts
Moms, you will likely find this funny because it's true! We saw this joke a few days ago, "We tried something new in our family. Every time we asked mom where something was, we put $5 in a jar. By the end of the year, we had enough money to buy mom a Lexus." Well, that's one way to save money, but we think organizing our homes might be a little better. We'll likely still need to answer these questions, but (*hopefully*) fewer times. We hope our favourite kitchen cabinet accessories will give you ideas to help you get started.
We have expert kitchen designers on staff to help you get the kitchen that will work with you! When you'd like to get started on the kitchen of your dreams, let's talk! In the meantime, perhaps you'd like to read our blog about kitchen layouts.