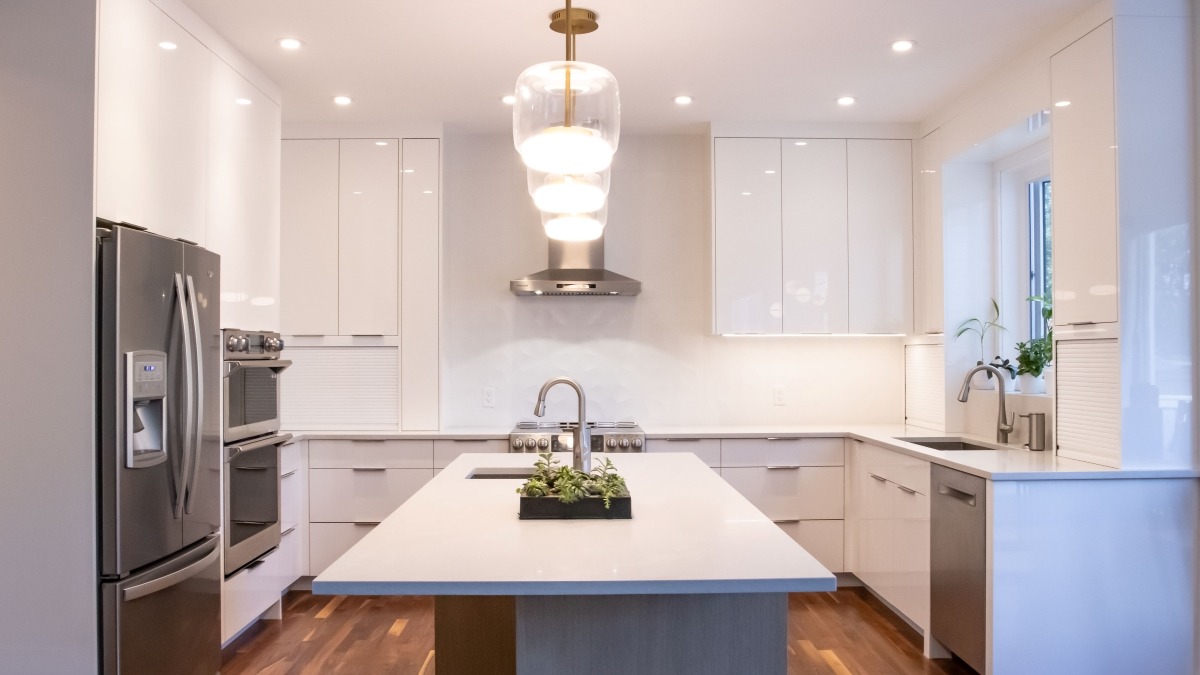 We always say that the kitchen is the heart of the home and as much of a cliché as that may seem, it's true. So much of our time is spent in the kitchen sharing how our day was with family or our dog (they can be better listeners), helping our kids with their homework, laughing over a glass of wine, or having that sanity-saving first cup of Icelandic roast. If we're completely honest — 70% of our time in the kitchen is spent asking, "What's for dinner?" as we stare blankly into the fridge. That's why having a space that inspires you is so important. If you're spending that much time in a room, it needs to be beautiful and inspiring to provide physical and mental nourishment for all who live in the home. Let's talk about how your kitchen layout can improve how you live in your home!
CONSIDER HOW YOU LIVE IN YOUR KITCHEN
Who Uses the Kitchen Most?
The first thing to consider is who will be in the kitchen. Which family members do most of the cooking? How many cooks will be in the kitchen at one time? What do your breakfast and dinner rituals look like? What sort of non-food-related activities happen in the kitchen? We joked a bit about this above, but you must take the time to consider your preferences as they will affect the layout that will work best for you. It will improve how you live in your space! You can ask our clients.
A family from a recent project shared that kitchen cleanup is a breeze since the renovation. They chose to have a small, deep sink on the island and a large trough sink on the outside cabinets beside the dishwasher. The parents laughed as they informed us that this decision removed the excuse that one child can't help cook or clean because there was no room. Parents, how relatable is that? They couldn't reach the sink to rinse a cloth to wipe surfaces down or put things away in the old layout. Now, there's enough clearance for multiple people to perform various tasks in the kitchen at the same time. See that project here.
Non-Food-Related Kitchen Activities
Do the kids often do their homework or craft in the kitchen, and would you like that activity to continue? Perhaps you would like to have them sit at the island so you can help them as you make dinner. Consider adding plugins to the kitchen island in inconspicuous, but practical places to keep the kitchen free of clutter and functional in this digital age.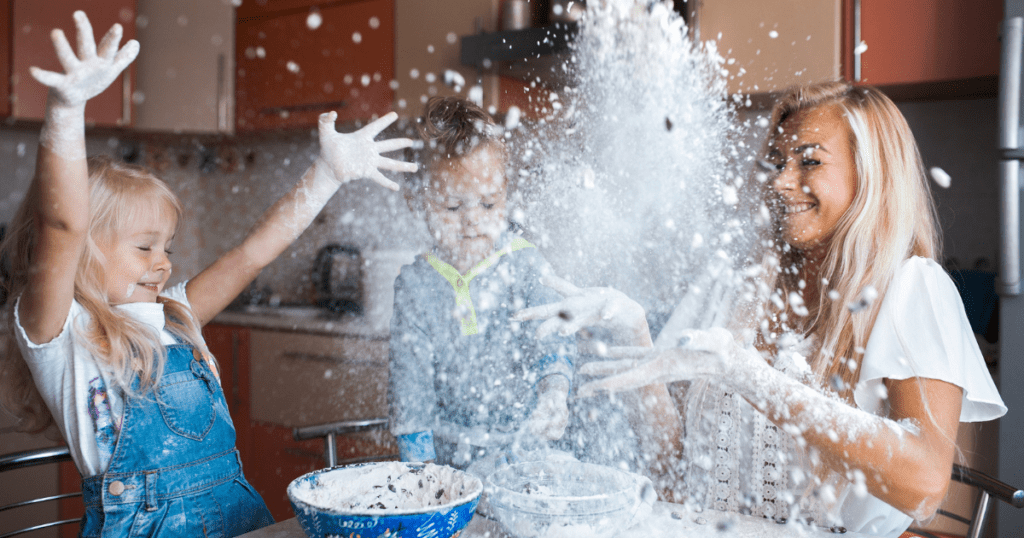 How Do You Prefer to Host Dinner Guests?
Do your guests often congregate in your kitchen when hosting? Would you like that activity to continue? Some hosts prefer to have their guests separate from the food preparation area and even go as far as to create a closed-off cooking space from the entertaining part of the kitchen. Others prefer to chat with their guests as they work and enjoy having an island for everyone to sit a spell while sipping a bevy. Perhaps you're a mix of both. We are only discussing kitchen layouts in this blog, but there are main-floor layout solutions to encourage a mix of both depending on your hosting style.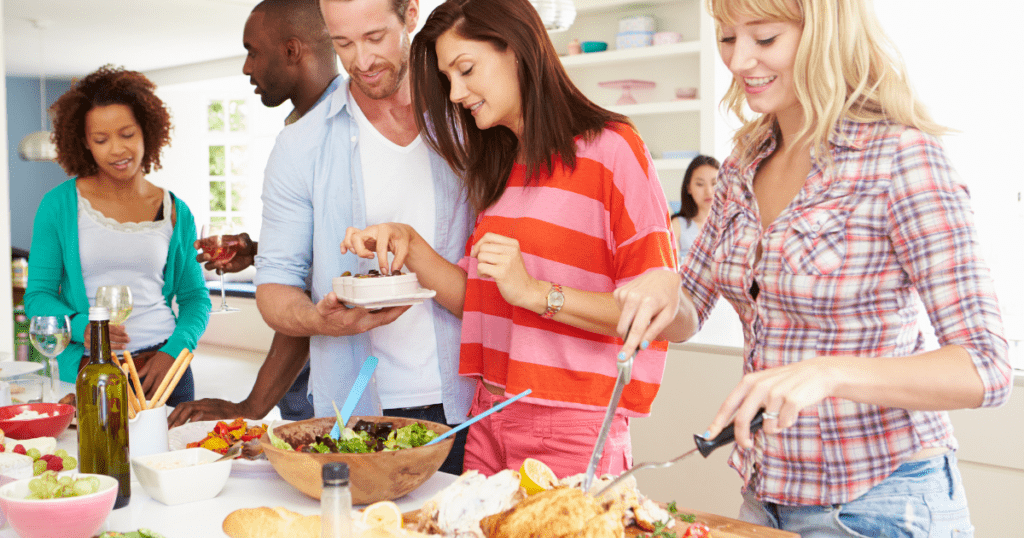 Now, on to some more technical considerations.
The Kitchen Layout Work Triangle Theory
The work triangle consists of your sink, stove/oven, and fridge. As these are the three major work sites in your kitchen, you should be able to navigate between them with ease in a way that makes sense for you. For example, the door should open to your prep space and sink when you're pulling out items from the fridge. You move from your fridge and pantry to your prep space to your oven and back again in a beautiful rhythmic kitchen waltz. It should be elegant and graceful. You should not have to walk all the way around your kitchen island to access these things, nor should they all be bunched into a tiny little corner of the kitchen. Careful consideration should be given to drawer and door clearance, traffic patterns, and ergonomics.
We could go into more detail on this, but Architectural Digest wrote an excellent article on the Kitchen Layout Triangle that we'll share here instead.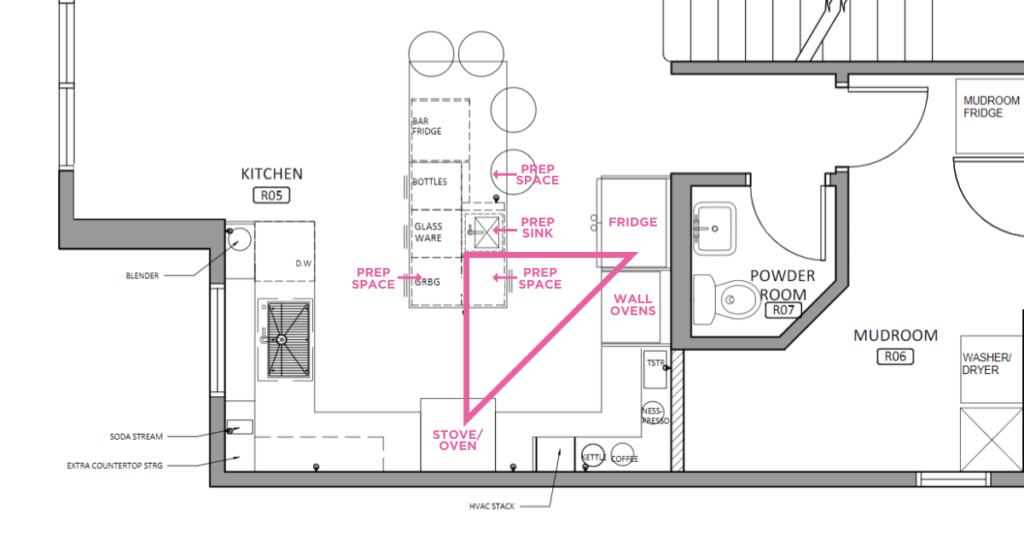 Traffic & Clearance Considerations
Working within the kitchen triangle, you want to be sure that you have enough clearance for drawers, cabinet doors, and appliance doors to open. You'll also want to make sure people can walk around the open door if necessary or access the kitchen from a different point if this area is blocked off. Is the dishwasher near the sink, and can you still open the drawers and doors to where most dishes are stowed while the dishwasher door is open? Can you bring your casserole dish from the prep station to the oven with the oven door open?
ISLAND CONSIDERATIONS
If you are installing an island, do you want to face your guests while you're stirring your grandma's famous stew, or would you like to get in the zone? No one wants to have their backs to their guests while creating a gourmet meal. Consider where your prep takes place and what kind of cooking you do. Is there more time spent on prep or more time spent over the stove? When you think about this, does it make more sense in your kitchen layout to have the sink or the stovetop on the island? Which would result in less time with your back to your guests? No matter which option you choose, always add plug-ins for small appliances and other electronic devices. You may even consider charging stations.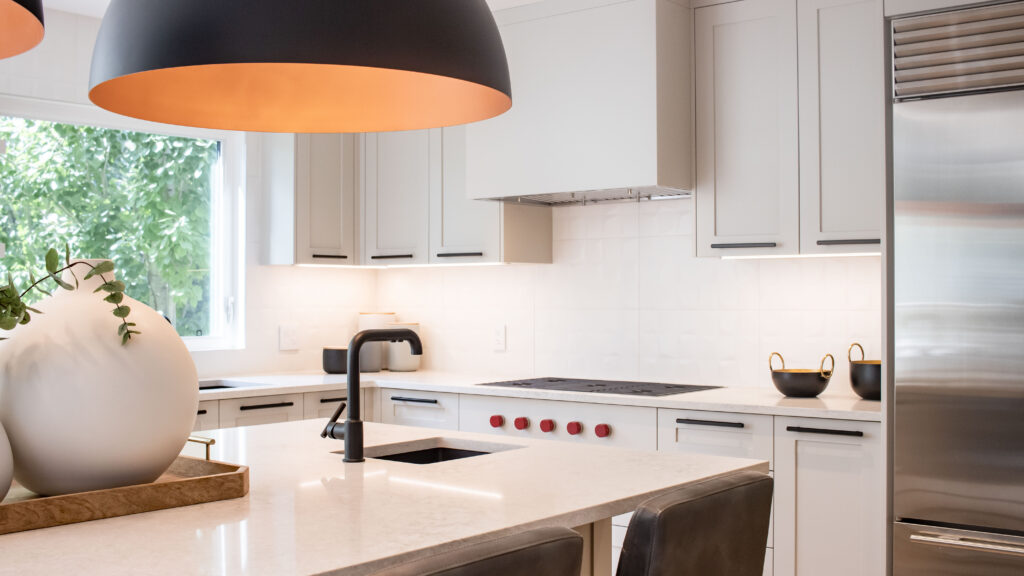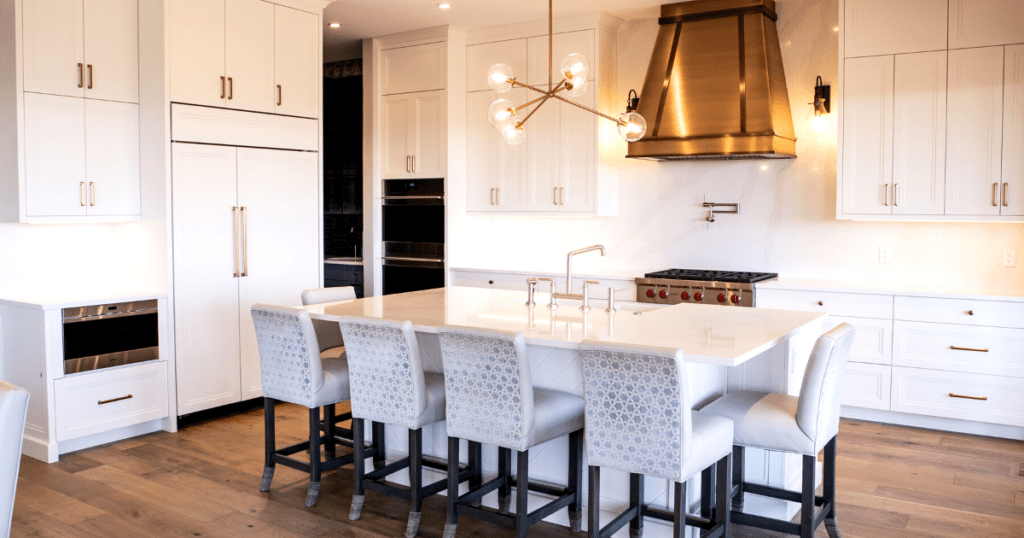 Prep Sink on the Island
If prep takes you longer, you'll be able to spend more time facing your guests with your sink on the island. If it suits you, you'll also find it easier to put them to work! You can easily navigate from the sink to the cutting board to small appliances on the island. This kitchen layout option also allows for multiple cooks to work together but with plenty of space for everyone.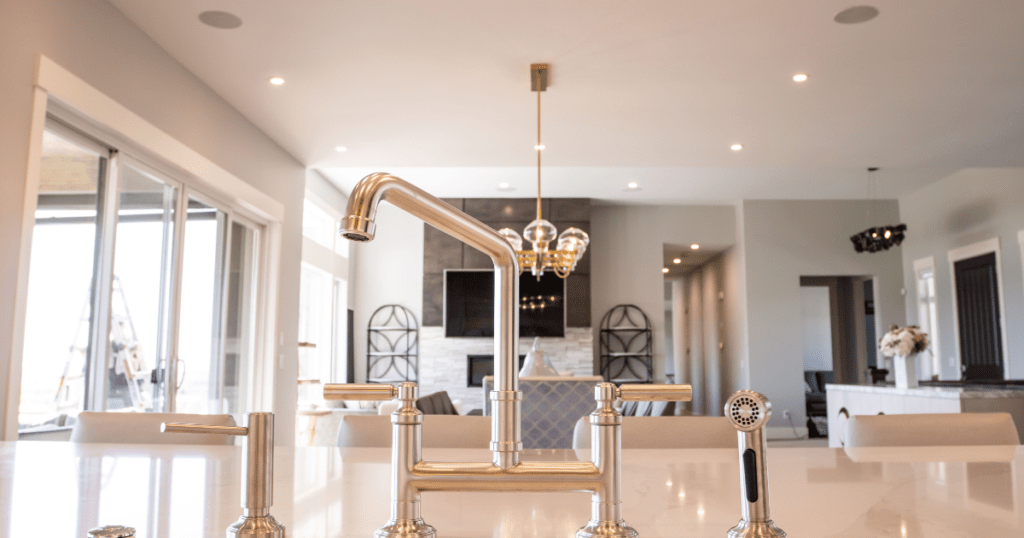 Cooktop on the Island
Building code requires that your range properly vents to the outdoors and that you have adequate make-up air to allow for healthy fresh air intake and circulation. Charcoal filters remove some smells and bacteria, but they are not powerful enough to evacuate all that grease from cooking made with love — that is if you measure butter with your heart as we do.
Hood fans are a large appliance and placing one floating above the island makes it the first thing you see. It should only be done if the kitchen is large enough to handle the sightline being broken up by such a dramatic feature.
Some other things to consider about placing your stovetop on the island:
There will be additional ductwork required to run a hood fan to the middle of the room unless you select a downdraft range.
Do you have enough room in your ceiling to run the additional ductwork required? If you do not, your ceiling may need to come down to accommodate this which could impact the openness of your space if your kitchen ceiling was already low.
Do you have a beam at the point you wish to place the hood fan? Hood fans can be up to 100 lbs. They require a strong beam to support their weight. You may or may not have a beam located where you would like to place the hood fan. This could require the installation of a new beam or may alter where the stovetop is placed on the island.
You will have to run additional high-voltage electrical junction boxes and/ or gas lines to the island.
Kitchen Layout Design Options that Make Your Kitchen Brighter & Larger
Cabinetry to the Ceiling
If your kitchen has standard-height ceilings, installing custom cabinetry that goes all the way to the ceiling will create the illusion of grandeur. Crown moulding can also add an extra flare and finish off your cabinetry. Cabinetry that does not go all the way to the ceiling breaks up the wall in a way that makes it appear shorter. The eye is funny that way. Vertical stripes make things appear taller and horizontal stripes make things appear shorter and wider. When your cabinet doors reach to the ceiling, they create long vertical lines. When they don't go up to the ceiling, they create a stunted horizontal line along with stubby boxes. This should only be done if your ceiling is over-height.
Panelled Appliances
Some love the look of appliances, and some do not. Panelling appliances with custom millwork can create a clean, seamless look in your kitchen.
Open Shelving
Open shelving is great for adding accessories and a pop of colour to your kitchen – especially if your cabinetry and countertops are neutral. However, if you're not a minimalist and let's face it, not many of us are, you have things — lots and lots of things. They may be functional, but not something you'd like to display artfully in your kitchen. If you like the idea of open shelving, either minimalize the amount of open shelving in your kitchen or pare back your items substantially to the items that will create a cohesive look in your kitchen. The rest should be stored away behind lovely cabinetry and drawers! If you are low on space in your kitchen, you may not be able to utilize open shelving as it may take valuable storage space away.
Open Shelving for Aging in Place
We'd like to add another caveat to our suggested limited use of open shelving. If you are designing to age in place, some open shelving is suggested for accessibility. As we age, memory loss can impede the use of the kitchen if not designed with longevity in mind. If this is your forever home, a few open shelves at an easy-to-reach height is a good idea. See more aging-in-place considerations here.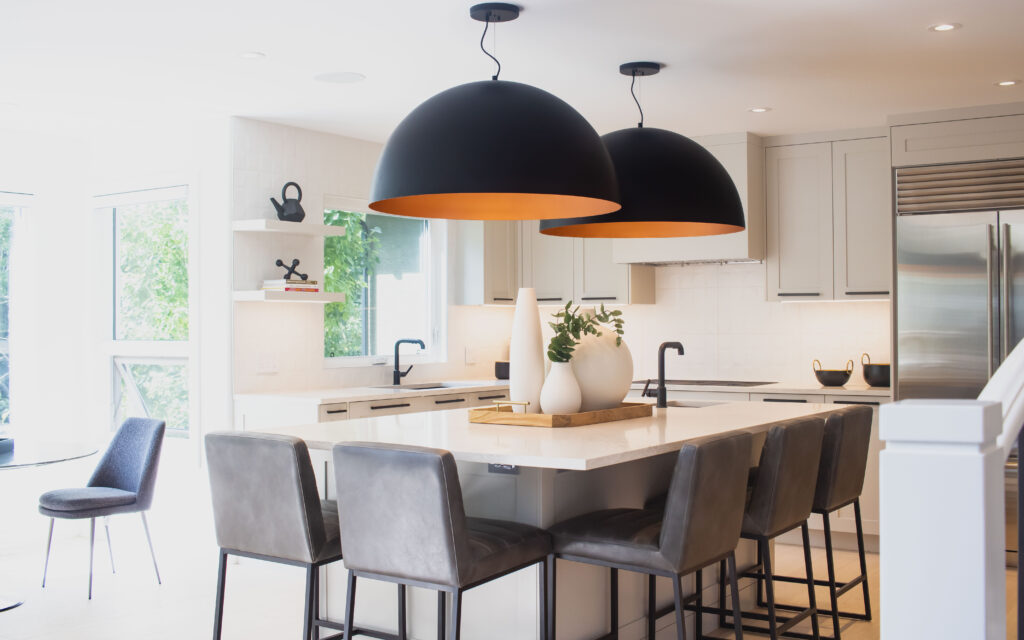 Countertop Selections
We discussed countertop selections extensively in another blog — find our 7 Best Countertop Options blog here.
Storage, Storage, and More Storage
The best way to keep your kitchen clean and clutter-free is to consider all the things you need to store while maintaining easy access to them.
Drawers have become a welcome trend in kitchen layout design that is sure to stay. There are so many storage accessories that work within deep soft-close drawers. Gone are the days of lower cabinetry that have useless half-shelves you put your back out trying to reach into. Drawers can be reinforced to hold small appliances or the oil and vinegar bottles you brought home from your trip to Italy last year.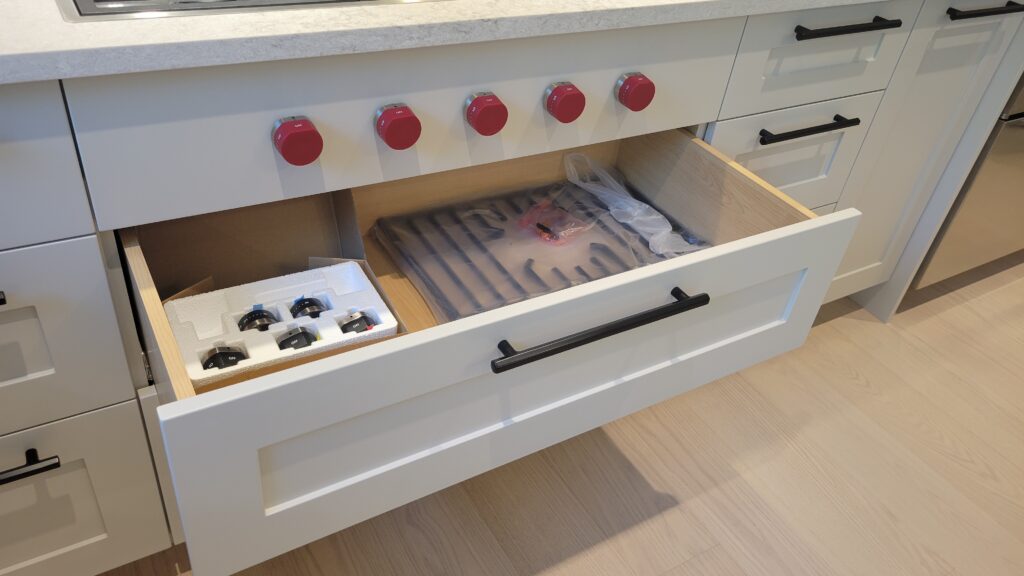 If you're anything like the ladies in our office, you'd prefer that all the cleaning be outsourced. However, that's not always possible, so integrate storage for the functional cleaning items you need into your design. Perhaps you'd like a pullout cabinet for trash and recycling with a small drawer above for bags to save you from fishing around under your sink for the box. Where do you want your broom and mop stored? Before renovations, we find that the brooms are often stored in the pantry with the food. What about adding their own narrow cabinet within the kitchen for ease of use? Cleaning must happen; you might as well make it as convenient as possible by considering the storage of cleaning items in your kitchen layout!
The Right Kitchen Lighting
We talked about creating a cohesive lighting scheme in another blog – find it here. You should have a kitchen layout plan dedicated to just lighting. The kitchen needs both mood lighting and task lighting. It's a bit of a fussy beast, isn't it? We suggest adding dimmers to kitchen lighting. Ensure that the highest setting will allow you to see what you're working on but also give you the option to dim the lights down low when the moment is right. Recessed lighting under the upper cabinets, or along the floor, is great for illuminating tasks, but we've also heard that it's great to be a kitchen nightlight for those late-night trips to the refrigerator.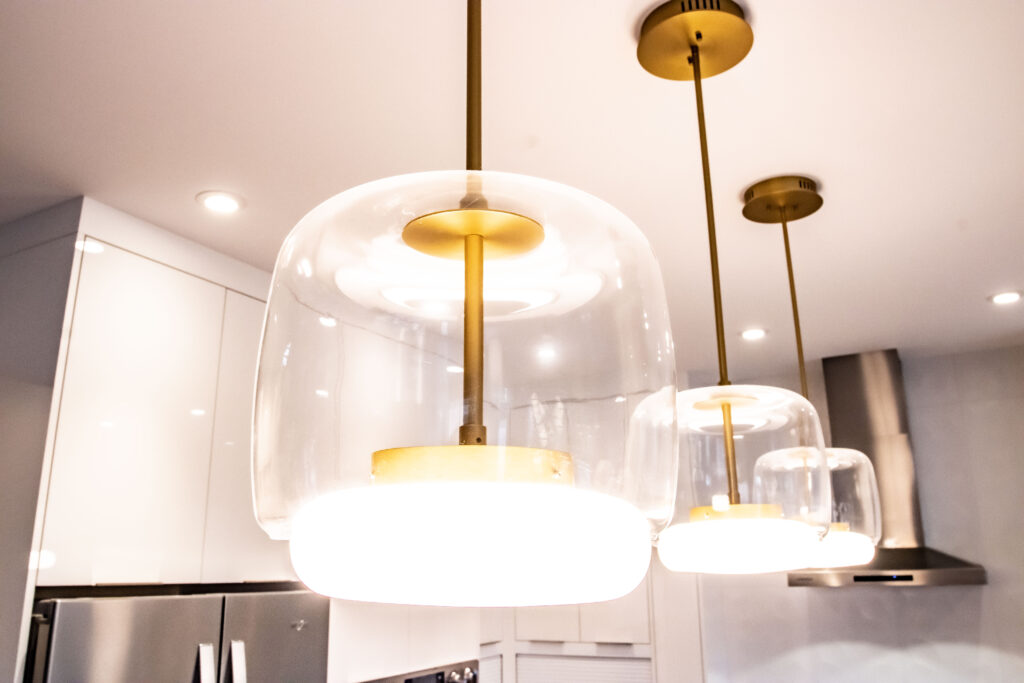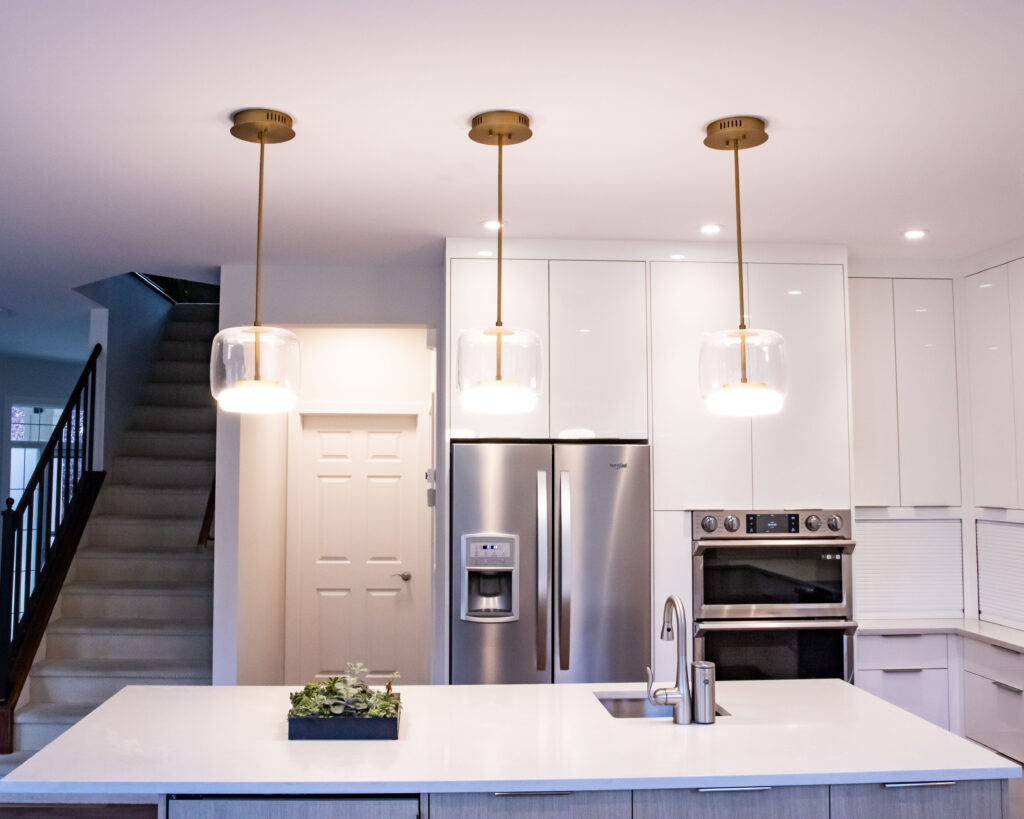 Phew this was long! If you made it to the end, you deserve a medal! Can you believe that we only scraped the surface of kitchen layout and design considerations? We'd love to discuss your kitchen renovation with you! Let's talk about the way you live in your home and all the ways you can live better.
If you're looking for some more inspiration, glance at our project page for more!