As a Calgary interior designer, there is nothing more fun than creating and executing a vision for a space. Here are my top seven decorating tips to help you bring hygge and a designer's touch to your living space.
Whether it's re-inventing a tired room that needs some love or fluffing up what is already there by injecting some fresh ideas and finishing details – it all makes my heart sing. Hygge ('hoo-gah', the Danish concept) is about living well and enjoying simple pleasures, especially in our homes and it's something I infuse in all our designs.
After years of working as a Calgary interior designer, and decoding what works and doesn't work in décor, here are a few tips you can use when decorating your home:
1. Foundation First
A good rule of thumb in any project is to decide on the biggest piece first. Your largest investment in a living room, for example, is probably going to be either your sofa or the area rug. Lay this first critical foundation piece and then take your cue from there. If your sofa is bright and colourful (say a modern teal or primary colour) then perhaps your area rug should sit back a bit and let the sofa be the star of the show. Or vice versa like the yellow area rug in this Calgary Show Home. Decide what you want the wowie element in the room to be and go from there. Mix patterns and solids judiciously.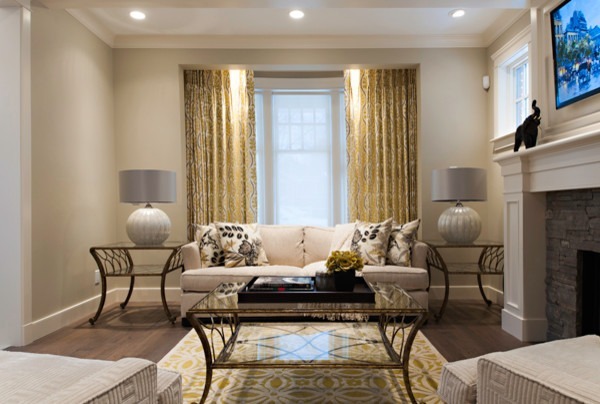 2. Play with Colour
Decide how you wish to work with colour, based on how you want the room to feel. If you want calm, then an analogous palette (tones close to each other on the colour wheel) could be a good approach.
3. Flavour & Personality
Is your goal to create a bold, energizing space or a nurturing and calm retreat?  Your answer will determine the amount of contrast and energy you want in the room. Bold spaces are created with unexpected mixes of colour, strong gestures and playing with proportion.  Just because a room is small does not mean that it cannot tolerate an oversized painting or a bold mix of tones.
4. Texture, Texture, Texture
For me, texture is the magic ingredient that brings dimension and life to a room. Layer in a mixture of textures to add vibrancy:
smooth shiny green leaves on plants
fluffy, textured pillows to create an inviting snuggle spot
a nubbly throw to warm your feet on a chilly day
a lightly textured weave fabric on the sofa mixed with beautiful chenille or velvet upholstery on chairs to add a layer of luxury
dimensional paintings vs flat prints
a cozy rug to define a conversation area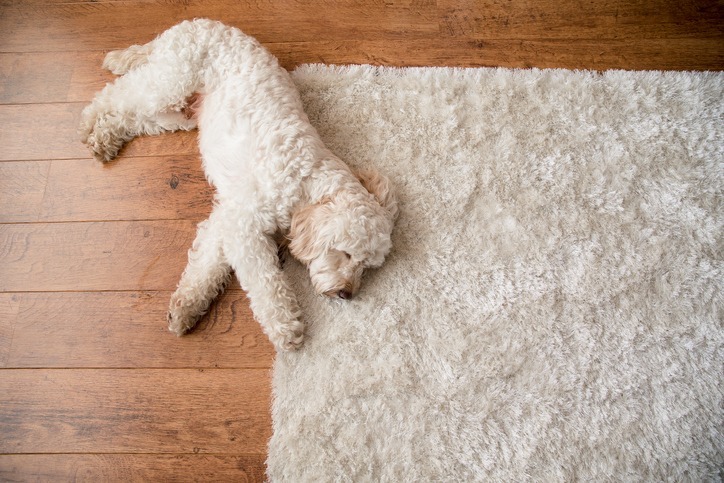 5. Let There Be Light
Adding layers of light can be the best investment you make in a room. Use a mix of both recessed and decorative overhead lighting and add dimmers to everything. Then layer in mood lighting in the form of lamps and candlelight. It can be as simple as just adding dimmers to your already existing lights. Every room should have a combination of task and mood lighting that can be adjusted for every activity – dimmers are a fabulous and affordable investment.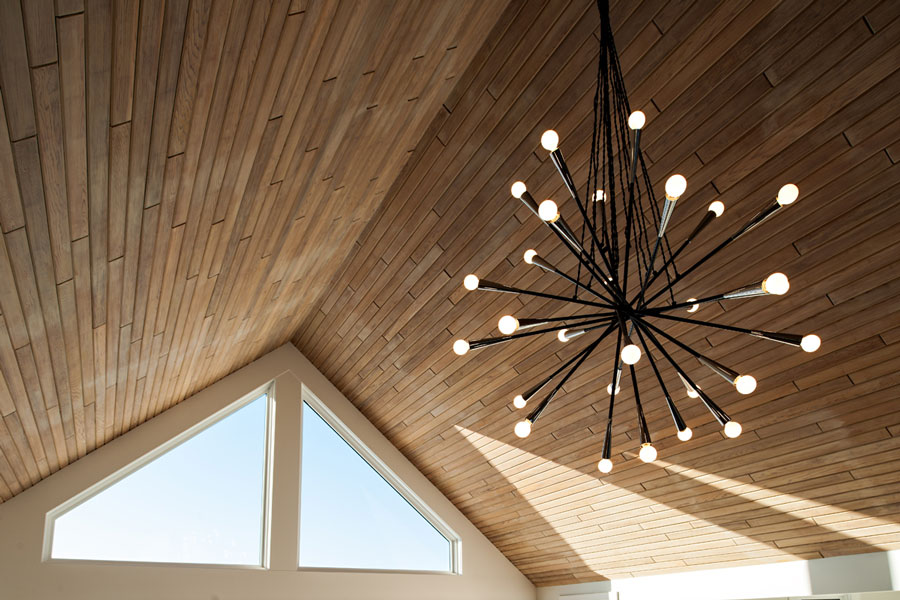 6. Play with Scale
One of the most common traps in décor is not getting scale right. Even small spaces can take the drama of larger-scale accessories and slightly up-sized furniture (if it fits appropriately).
However, with furniture pieces you must do your homework: i.e. do not ever purchase a sofa without marking out the size of it first on your living room floor. (Painter's tape is a great tool to use for marking out furniture locations).
Everything is about the relationship of one item to another and if it's too large to fit comfortably in the room don't purchase it. It's got to play nicely with the other elements in the room. Sofas that look unassuming in a 10,000-square-foot showroom have been known to come home with you and eat up the space in your living room.  Check the dimensions both in the store and at home.
Restoration Hardware furniture is beautiful but proceed carefully, especially if you live in a condo or an infill.  Their pieces are designed for super-sized American homes, so make sure you have enough space for them.  Every piece in any room requires what I call "breathing room".  If you live in a compact condo, make sure your furniture is appropriately proportioned.
7. Live Artfully
As soon as you can afford to, start investing in original art.  It can be as simple as a beloved child's drawings slipped into ready-made and pre-matted frames, but have fun with art and collections by grouping them creatively. I love to mix family photos, children's art, and some professional original art with texturally collected items.  Do you have a cool collection of antique buttons? Stitch them onto an interesting fabric and stretch them over a frame.  Or, have them mounted into several shadow boxes and hang them in a grouping.
Your home should fill you with joy and remind you of happy times and places. Find a creative and organized way to display your passions and collections – bring them out of hiding, like in this shelf display from this executive home in Calgary.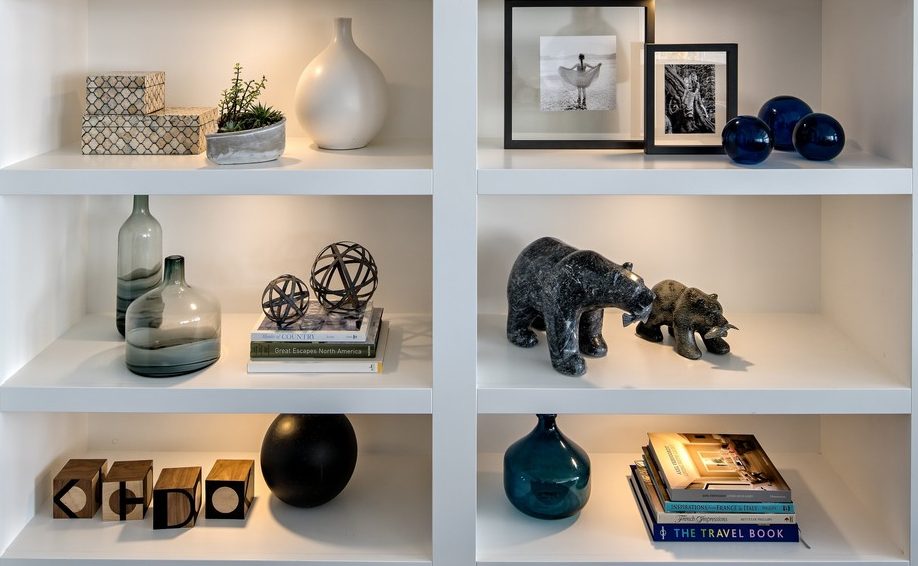 Krista Hermanson Design is an Interior Designer based in Calgary Alberta. We have worked with many families in Calgary who have acquired beautiful and meaningful objects in their travels but need a bit of professional help to style them.  Perhaps the decorating tips above will get you inspired to either add an additional layer of love to your home or to invite us out to help you spark the love. Either way, happy hygge-ing!
Want to get in touch with us? Lets Talk.
Similar Posts from the Krista Hermanson Design blog: